Chasing Excellence: The Remarkable Life and Inspiring Vigilosophy of Coach Joe I. Vigil (Paperback)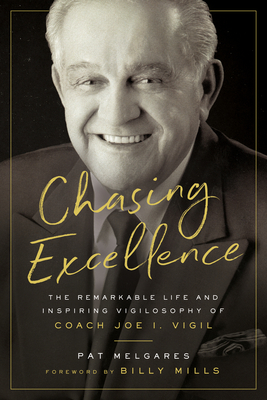 $19.95
This item is not currently available to order.
Description
---
Dr. Joe I. Vigil—known simply as "Coach" to virtually everybody he has ever met—rose from poverty to become a towering figure in the running world. Coach has won 19 national championships and coached 425 All-Americans, 22 Olympians...and an army of "Vigilantes" who seek to emulate his unique blend of compassion, competitive spirit, and commitment to others. In this long-overdue biography about America's preeminent distance-running coach, author and Vigilante Pat Melgares shares Coach Vigil's tale not just through the consummate storyteller's own words but also through those of more than 50 family members, friends, former runners, and foes who have been shaped by his presence over a lifetime. Coach Vigil is driven by a persistent desire to learn, a deep faith in people, and an unwavering loyalty to his hometown of Alamosa, Colorado. His life is an American dream—a must-read for anyone who loves an underdog or seeks to understand the timeless qualities that forge a leader. Chasing Excellence has been Coach Vigil's mantra for decades, for himself and those he teaches. At age 90, he's as relentless as ever in that quest.
About the Author
---
Billy Mills was the 1964 Olympic gold medalist in the 10,000m with one of the most stunning underdog performances in track and field history. An Oglala Sioux member and US Marine, Mills is co-founder of the nonprofit Running Strong for American Indian Youth and a well-known speaker and activist on Native American issues. Born in Alamosa, Colorado, Pat Melgares was raised on the south side of town just three blocks from where Joe Vigil grew up. Pat graduated from Alamosa High and Adams State College, and was a four-time All-American from 1985-1989. Pat was also on four NAIA cross country championship teams and two The Athletics Congress (TAC) junior cross country championship teams. Pat studied journalism and began his career at the hometown Valley Courier. He became public information officer at Adams State and is now a communications specialist and public information officer at Kansas State University.
Praise For…
---
"Coach Vigil is the ultimate mentor no matter the sport and has the philosophy to ever-learn and ever-share. No matter where you feel you are starting your journey, this book is your gateway to creating purpose and fulfilling your life goals." —Deena Kastor, Olympic medalist, American record holder in the marathon, New York Times best-selling author

 

"Coach Vigil is an inspiration to me, and now others will get the chance to see the passion and compassion of this remarkable man. I was fortunate to be with him at a time when my life and athletic career were blossoming. He believed in me and he instilled the importance of the nine inches above the shoulders: anyone can get ready physically for a race, but the mental component is also just as important." —Meb Keflezighi, 2014 Boston Marathon winner, 2009 New York City Marathon winner, Olympic medalist

 

"When I rode with Coach Vigil to my first altitude-training camp, he drove from Tucson, Arizona, to Mammoth Lakes, California, and told me lots of stories all the way. Now, everybody can enjoy Coach's stories and discover what a great mentor, person, and friend he is. He's the coach of every distance runner of my generation. We all have our own coaches, but Coach Vigil is the one we all share." —Abdi Abdirahman, oldest U.S. distance-running Olympic qualifier; only five-time U.S. men's Olympic distance runner

 

"There are few distance coaches in the world who have as broad of an impact on distance running as Coach Vigil. Like so many, my program was based off the backbone structure of Coach's training philosophy. I am certain that I would have never run at the level I achieved had it not been for Coach Vigil's influence. He is a sage in our sport who has empowered us all to break through, and Pat Melgares has given all of us the opportunity to better know this amazing man and coach." —Ryan Hall, U.S. record holder in the half marathon, two-time Olympian
 

"What I admire most about Coach Vigil is the compassion he has to help others with the knowledge he has gathered over 50 years of coaching. Coach's life story being brought to life in this book will inspire others to follow in his footsteps." —Brenda Martinez, Olympian, 2013 World Championships 800m silver medalist
 

​"I have known Coach Joe Vigil since 1968 and for more than 50 years have observed his many different roles—running coach, life learner, teacher, and compassionate human being. His story and his example are an inspiration to all. This new book will spread his approach and knowledge to many more. There is much to be gained." —Amby Burfoot, 1968 Boston Marathon winner, longtime editor, Runner's World magazine

"Chasing Excellence: The Remarkable Life and Inspiring Philosophy of Coach Joe Vigil, by journalist Pat Melgares (a former Adams State runner), documents Vigil's life from his modest beginnings to success as a teacher and track coach at Alamosa, Colorado High School and then to Adams State where he forged a true NAIA distance dynasty over a 29-year period, and to co-coaching at Mammoth Lakes, guiding Deena Kastor to Olympic marathon bronze and other successes. Much of the story is told via testimony from his former athletes and fellow coaches. From their reports Vigil can walk on water; he is a demigod, mentor, friend, universally loved and respected." —Track & Field News

"Chasing Excellence by journalist Pat Melgares (a former Adams State runner) documents Vigil's life from his modest beginnings to success as a teacher and track coach at Alamosa, Colorado High School and then to Adams State where he forged a true NAIA distance dynasty over a 29-year period, and to co-coaching at Mammoth Lakes, guiding Deena Kastor to Olympic marathon bronze and other successes. Much of the story is told via testimony from his former athletes and fellow coaches. From their reports Vigil can walk on water; he is a demigod, mentor, friend, universally loved and respected." —Ed Fox, Track and Field News