Stories on Rye: A Collection of Memories Shared at Canter's Deli Since 1931 (Hardcover)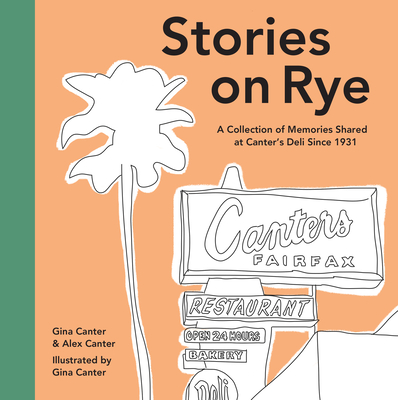 $30.00
This item is not currently available to order.
Description
---
Stories on Rye collects more than 100 stories from the famed LA deli's patrons and employees, capturing their experiences and memories at Canter's since it first opened in 1931. Gina Canter's beautiful illustrations celebrate both the place and its patrons, as voices from the past join the present, to demonstrate that nostalgia can be very much alive. Like the Canter's booths that have welcomed movie stars and presidents alongside countless everyday people, the book contains a vast range of memories. Most significant, perhaps, is its connection to the Jewish heritage, such as the holocaust survivor who reunites with her family at Canter's after being separated for over 40 years. Hilarious, touching and perhaps a little magical, Stories on Rye are a testament to the human spirit, and to a restaurant that shares its legacy with each of its patrons.
About the Author
---
Alex Canter discovered his passion for restaurants at a very early age, spending most of time implementing new technologies in the family deli. During his 4 years at the University of Madison, Wisconsin, Alex founded and led numerous startups. After returning to Los Angeles, he served as COO of an innovative platform for food truck booking. In 2017, he co-founded Ordermark to help restaurants maximize the benefits of online ordering by sending orders from multiple online ordering providers to a single device in the kitchen. Under his leadership, Ordermark helps thousands of restaurant brands nationwide to grow revenue with online ordering. He leads a growing team in Los Angeles and Denver, and received recognition for his achievement in building enterprise technology in the 2019 Forbes 30 under 30 list. He is a renowned thought leader in the industry, and often speaks at conferences nationwide. Gina Canter is an LA based artist who studied art and design at the University of Michigan. Gina has worked at local contemporary art galleries including Mouche Gallery in Beverly Hills. Throughout her studies, she experimented with modernity. In 2016, she won the Ross School of Business art competition with her 3 series Monet inspired rendition of the new business wing, Blau. She was recognized for her work by Steven Ross and Jeff Blau at the ribbon cutting and opening ceremony. The painting is framed in the wing. Graduating in 2017, she has since been creating a collection of acrylic portraits. In 2018, Gina was commissioned to create a 10-piece collection for a large enterprise client. This collection was featured at the Soho House Miami at Art Basel 2018. Her work continues to be featured nationwide--she most recently was commissioned for an NBA All-Stars 2019 event in Charlotte.