Brand Experiences: Building Connections in a Digitally Cluttered World (Hardcover)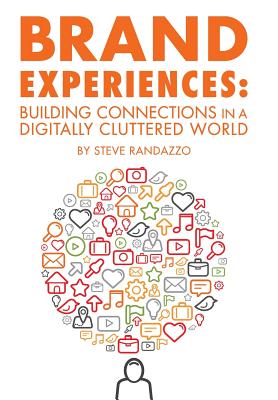 $20.79

Available in our Warehouse: Usually Ships in 3-8 Days
Description
---
Build Connections + Stand Out in a Digitally Cluttered World
Are your marketing efforts not bringing in the results you hoped? Are you struggling to make meaningful connections with your customers? Well, Brand Experiences by Steve Randazzo may just be the book you've been looking for.
The truth is...
Every day, humans are bombarded by marketing messages. By some accounts, over 4,000 per day Think about it, what social posts do you remember from yesterday? This morning? Our brains are being trained to only pay attention for less than 8 seconds and then move on to the next message. So, as a brand marketer, how do you get your brand to stand out and get the attention it needs and deserves.
The simple answer is by building a memorable experience around your brand.
While content may be king, the online kingdom is overly crowded. Your consumers are inundated with advertisements every time they log on to their computers - and those that slip through ad blockers tend to get "skipped" or flat-out ignored, depending on the medium.
No wonder it is hard to stand out
Think about your brand for a minute. Does one of these sound like you?
Is your brand struggling to stand out in a really crowded market?

Is your marketing stuck in the past? Are you looking for a strategy that will drive tangible ROI?

You know more people would buy your brand if they could just experience it

When people understand how valuable your brand is, they buy it

Once people buy your brand, they become loyal
With this being the reality, it has never been more important for brands to provide consumers with engaging, emotionally stimulating experiences they will not want to avoid - and science proves that experiential marketing holds the ticket to achieving this goal
If this is resonating at all, this book has 9 chapters to help YOU achieve the attention, sales, engagement, and differentiation you crave.
Seriously, pick up this book today and start learning about how to get the attention in the marketplace your brand deserves. If you do,
your brand's story will be memorable and long-lasting.
You will also gain fresh perspective strategies utilized by recognizable brands such as The Walt Disney Company, Dr Pepper Snapple Group, NBA, Tractor Supply Company, REI, Patagonia, Corona, Budweiser, Adidas, and more.
Oh, one more thing.
Brand Experiences by Steve Randazzo will teach you how to last as a brand with upcoming and current generations. To insert yourself right in the middle of the word of mouth, activism, and trends.
Through this easy read, you will gain a driver's-seat view to the lessons learned and relevant examples of Steve Randazzo's, president of Pro Motion Inc., 30 years of experience.
Steve explains why and how - today more than ever - YOU need to educate, engage, and inspire your target audiences through experiential marketing.
What are you waiting for?
SCROLL UP and click that BUY BUTTON to get your copy of Brand Experiences NOW