California Gold Country Explorer: All-Season Travel to Legendary Sierra Nevada Gold Rush Mining Towns, Trails and Parks (Paperback)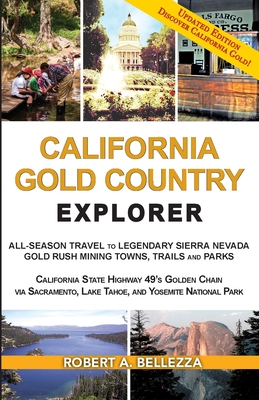 $21.95

Available in our Warehouse: Usually Ships in 3-8 Days
Description
---
Step back into history and the vibrant era of the 1849 Gold Rush A single Eureka event changed history forever, early January of 1848. Sutter's Mill on the American River became California's first gold discovery site. Take a journey along circuitous Gold Country backroads and visit museum-quality mining towns and regions covering one-fifth of the Golden State's most scenic geography. Whether exploring the first gold strike on the American River South Fork or visiting State Highway 49's Golden Chain of mining towns, explore the 300-mile adventure to legendary gold mines, surrounding lakes, rivers, and streams. It's a path of history bringing the miners to the goldfields with their frantic lust for gold on a quest for the precious mineral generating the largest single mass migration ever recorded. It's a story of pioneers and historical spots that brings forward the history of California's growth after the 1849 Gold Rush period to the present day. The book highlights 14 Gold Country Tours, as travelers take an insider's view from a 'Golden State Triangle' starting in Sacramento, Lake Tahoe, or Yosemite National Park.
During a 50-year career in the Sierra Nevada foothills and dozens of twists and turns over the rigorous curves into the steep river canyons of State Highway 49, the first impressions of Sutter's Mill encouraged California Gold Country Explorer and new touring book. Once covered with tent camps, ghost towns, and gold mines spread the Golden Chain includes recreational areas over one-fifth of the entire Golden State, easily accessed from Sacramento, Lake Tahoe, and Yosemite. The highlights in the book's 14 Gold Country Tours give an insider's view of traveling to Sierra Nevada foothill and mountain destinations. Whether exploring James W. Marshall's first gold strike on the American River South Fork or visiting antique mining towns with lasting memories remain of Mark Twain's wit, Lola Montez's Spider Dance, built by the countless efforts of 49er Argonauts on the path of history into the legendary centers of wealth. Today's legendary mining towns' ineffable charm and treasures are pursued by visitors for historical lodging, handcrafted goods, delicious farm to fork foods, local craft beer, wine, and spirits complemented by 49er hospitality and a sense of deep commitment.
California's Golden Age inspired a long list of important innovations and new technologies from the 19th Century, whether it was inimitable pieces of massive mining equipment, long-line electrical transmission, water, and steam power generation, long-distance telephones, clothing style, expansive agriculture, or by 1869, the crowning achievement of the transcontinental railroad. Gold seekers traveled from distant corners of the globe making journeys overland on a horse, mule, oxen, or by foot, following the frenzied rush for gold. Constant gold strikes reported nuggets...for the taking. Our Golden State's history is a reminder of how we stand miles above the hidden treasures and veins of those precious minerals, just beneath our feet.
Robert A. Bellezza has worked with California tourism, graphic design, and marketing publications establishing the Gold Country Guide in 1994, and California Tour & Travel Magazine, in 1999. Authoring a series of five touring books on California's Spanish missions, the series features 1000 both vintage and current photographs. The California Mission Collection was published as part of Arcadia's "Images of America Series" in 2012. San Diego Untapped , a new tour book emerged in 2017 describing the craft beer industry and small brewing businesses. The author's seventh travel book released in 2022, the California Gold Country Explorer, focuses on the 1849 Gold Rush, its towns, and historical sites in the Sierra Nevada Foothills.
About the Author
---
During his career, Robert A. Bellezza implemented California travel and tourism media distribution, and created magazine content, graphic design, and marketing in flagship publications of 1994, the Gold Country Guide, and in 1999, California Tour & Travel Magazine. He created a tasting room video for Robert Mondavi with his family history in Lodi, California after being introduced to him in 2007, at Woodbridge Winery. In 2012, researching the original Spanish missions of California after a discovery of 150 rare lost photo negatives, he designed and published a five-book series, The California Mission Collection, as a part of Arcadia Publishing's "Images of America Series". His present day marketing enterprise, Tour & Travel Media, expanded with the release of his first travel book in 2017, San Diego Untapped!, with interviews from the owners and brewers in the craft beer industry featuring award-winning small brewing businesses. His seventh book in 2022, the California Gold Country Explorer portrays the 1849 Gold Rush, its towns, and historical sites.