Lost on the Way: A Journal From the Camino de Santiago (Paperback)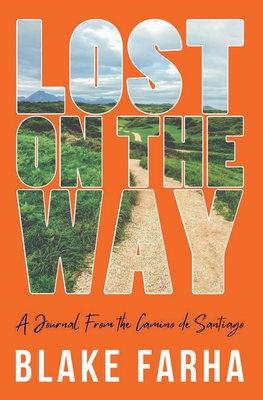 $17.49

Available in our Warehouse: Usually Ships in 3-8 Days
Description
---
On that fateful day in 2017, Blake Farha was unexpectedly informed that he was being laid off and would soon find himself unwillingly and, in his mind, unjustly unemployed. Suddenly jobless, the future lay before him like an open desert with no visible beacons, landmarks, or checkpoints at which to aim.
He would often think about the Camino de Santiago, an ancient pilgrimage stretching all the way across Spain, when he was feeling fed up with his life and the direction it was taking. After five years and a couple of half-earnest flirtations with setting off on the age-old El Camino pilgrimage, the time had finally come. "From the outset I knew that if I wanted to quiet its dogged pleas for my attention, I had but one option: pack a bag and get underway. 'Screw it, then, ' I thought. 'I'm walking the Camino.'"
Armed with a cheap notebook, a ballpoint pen, and the ugliest pair of shoes he'd ever owned, he set out to fulfill a dream and to get a grip on the demons that have plagued him his entire life.
In this uncensored travel journal, Blake chronicles his 600-mile sojourn on foot through the Spanish countryside. Each journal entry invites readers deep into the inner workings of his heart, mind and spirit at the end of every stretch, as day by day, mile after mile, the Camino, the pilgrims he meets, and the time for reflection bestow upon him countless insights on depression, anxiety, self-worth, and finding peace.
Vulnerable and humorous, evocative and earnest, his journal is a window into a lost soul on a journey to self-discovery; a portrait of gorgeous landscapes, human connections, and those questions which don't seem to have any answers.
"May this record of my time on The Camino de Santiago serve all who read it in some way. May it bring comfort to those who are lost, scared, uncertain, downtrodden or struggling with their own demons - physical, mental, or otherwise."
Like the thousands of tiny yellow arrows that mark the way to Santiago, these heartfelt entries remind us that hope often hides in unexpected places, and stand as a testament to all who read them that there's nothing wrong with getting lost on the way.