How to Craft a Killer Cozy Mystery: An Intensive Guide to Traditional Murder Mysteries & Writing the Modern Whodunit (Paperback)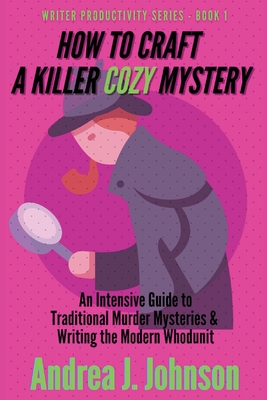 $17.54

Available in our Warehouse: Usually Ships in 3-8 Days
Description
---
So you want write the perfect COZY MYSTERY?
Crafting a killer cozy can be perilous. Fans of the genre expect authors to forego explicit gore and violence while at the same time creating a mind-boggling murder mystery with pulse-pounding tension and a twisty plot. But how is writer supposed to satisfy such disparate demands?
How to Craft a Killer Cozy Mystery tackles this exact problem by providing an actionable roadmap for starting (and finishing ) a manuscript that will leave readers dying for more. Packed with worksheets and questionnaires designed to streamline the writing process, this comprehensive step-by-step guide will teach you to create compelling characters, vivid settings, and clever storylines.
Whether you're a new writer or just new to the genre, you will walk away from How to Craft a Killer Cozy Mystery with a checklist for everything you'll need to start your first draft, including:
The history behind the modern cozy and why they're so popular with today's audiences
The 13 key reader expectations for the genre
The 10 essential rules every cozy must follow to create a fair play puzzle
The difference between cozies, thrillers, capers, detective stories, and police procedurals
The difference between a premise and a hook-and how to kick-butt writing both
The essential beats for the four-act plot structure
How to effectively hide clues and create plot twists
And as a special bonus, How to Craft a Killer Cozy Mystery contains an extensive *glossary of literary terms* and modern as well as classic examples of commonly used mystery solutions and misdirects. Grab your copy today.
MASTER THE EXPECTATIONS FOR THE GENRE, AND CRAFT THAT KILLER COZY