The Emerging Woman: The Nice Girlz Guide to Living Life Unapologetically (Paperback)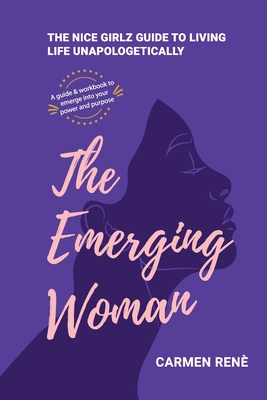 $15.95

Available in our Warehouse: Usually Ships in 3-8 Days
Description
---
Do you ever wonder whether some people are just born fabulous, strong, bold and confident? The short answer is no. We're all born with a clean slate onto which our journeys can be recorded, and all of our stories written. While it's true some people have aptitudes and talents not possessed by all, beyond that, we don't come into this world with built-in self-esteem. In fact, for most women, self-esteem, complete awareness of oneself and confidence need to be instilled, and often with daily reminders to keep us on track.
From the moment we leave the comfort of our parents' arms (assuming we were fortunate enough to have loving parents who guided us), at nearly every turn we have to almost fight against the will to bend to others' needs, to others' views about us, even just the bad day someone is having in order to stand tall, and not allow what's going on around us to knock us down. It takes work, believe me.
Whether you're looking for a quick pep talk, to take inventory of yourself or something in between, The Emerging Woman: The Nice Girlz Guide to Living Life Unapologetically will guide you toward better self-esteem, confidence and self-assurance in the workplace, at home or as you start a new career or business.
The Emerging Woman isn't "just" a self-help guide. At the end of each chapter, you can reflect on the chapter and how it applies to you personally. So no matter where you are in life, no matter how little or how much self-confidence you have, we all are emerging women destined to live unapologetically.