All Day Baking: Savoury, Not Sweet (Hardcover)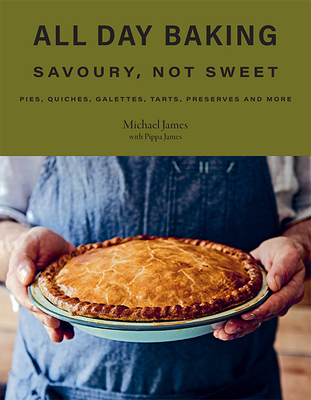 Description
---
For every two lovers of sweet baked treats, there is at least another who will take the gruyere gougere or the curry pastie every time, thank you. All Day Baking: Savoury, Not Sweet is a baking cookbook – at last – for them. Its mission is to deliver comforting, inventive and wholegrain-forward ideas for pies, sausage rolls, pasties and myriad other mostly pastry-based recipes, alongside gutsy accompaniments that equip the reader with the tools to transform delicious bakes into nourishing any-time-of-day meals.

Author Michael James is a Michelin-restaurant chef by training who was drawn early to the art, precision, and satisfaction of baking. In All Day Baking, his second book, he turns his attention to the pasties of his UK childhood, the pies he creates today for his young family, and the quiches, sausage rolls, palmiers and galettes that have earned him a cultish following around the world. As well, he delivers a master class in pastry &ndahs; from puff to rye to vegan and gluten-free &ndahs; gifting readers a foundation knowledge that sets them on a path to their own freewheeling baking adventures.

The book is structured across the arc of a day but the recipes at their heart are interchangeable – if you fancy beetroot & shallot galette for breakfast or bacon & onion quiche for dinner – that's perfectly ok. And throughout there is a nod to Michael and wife Pippa James' ethos, rooted in sustainability, seasonality and a desire to minimize their waste footprint.
About the Author
---
Michael James is an accomplished chef and baker who grew up in Penzance, West Cornwall, before moving to London where he met Pippa over the pass at the two-Michelin starred restaurant Pied à Terre. They moved to Australia in 2004 and opened the Tivoli Road Bakery in 2013. After garnering a loyal following for their bakery in Melbourne and beyond, and writing their first book together, The Tivoli Road Baker, Michael and Pippa sold the business to focus on new opportunities. Together they are committed to sustainability and remain active members of baking, grain growing and milling communities. He consults internationally and runs regular baking classes.
Praise For…
---
"All Day Baking is a perfect marriage of the finesse of pastry craft and thoughtful, honest food ethos. Generous with knowledge, Michael and Pippa will inspire you to reach past packets of plain white flour to become a grain-inclusive baker with a repertoire of ingenious flavour combinations. These are recipes to always keep close to your hearth." — Natalie Paull

"This book is AMAZING." — Chad Robertson

"Michael and Pippa have created a collection of recipes, thoughts and stories that manage to consider all the best bits about a local, honest and traceable food culture. They've included generous nods to place, season and growers, the value of health and time with family and provided insight and inspiration around the fun and craft of savoury baking. Plus, everything is delicious." — Dan Hunter

"I met Michael and Pippa years back at a grain gathering at the bread lab at Washington State University. What struck me first was their sincere passion for the foundation of all good things bread and pastry. This was beautifully represented at their world-renowned Tivoli Road Bakery in Melbourne. In their first book, The Tivoli Road Baker, Michael's full arsenal was on display. In this second book, he and Pippa give us the feeling and flavour of home, a focused all-day arc of savoury pies and pastry pulling from Michael's roots in Cornwall England, kissed with time and a professional journey well spent." — Chris Bianco

"I have been known to join the queue for Michael James' delicious food, and while I delight in his beautiful cakes and sweet treats, I marvel at his exquisite savoury baking: perfect pastry, on-point seasoning and interesting but never gratuitous, flavours. In All Day Baking, Michael and Pippa have given us a collection of irresistible pies and pasties, homely scones and quiches, gorgeous galettes and tarts. And of course, those famous sausage rolls. Practical tips and friendly guidance ensure our efforts are rewarded, and a wonderful section on ketchups, relishes and chutneys tempt us even more to get (savoury!) baking. My only apprehension is that, with this book, I really will want to bake all day!" — Helen Goh

"A declaration for the joys of savoury baking. As exciting as any sweet baking book, it is filled with recipes you'll make time and time again. From bacon and egg breakfast buns to butter chicken pie, this was a book I devoured, from its beautiful design and imagery, to its modern, thoughtful recipes, this is a book that should find a place in any bakers kitchen." — Edd Kimber

"The lure of pastry never ceases to excite me, yet my natural bent is savoury. In All Day Baking, Michael and Pippa have thrown themselves into the pages savoury first. And in so many cases, offered step-by-step photographs to give the novice huge confidence. I love this book." — Maggie Beer

"Michael and Pippa James have written an inviting collection of recipes that celebrates deeply savoury flavours in the creative seasonal kitchen. Written in an approachable manner with suggestions to increase wholegrain flours, both aspirational and experienced home bakers will expand their pastry skills with these reliable and flexible techniques. From Asparagus, Ham, and Cheese Bostocks, to Beetroot and Shallot Tarte Tatin and Buckwheat English Muffins made with sourdough, these delectable recipes are rooted in old-world traditions but with the modern and accessible flair of an experienced chef. Considerate recommendations for substitute ingredients are present throughout, with clever tips and expertly explained instructions that encourage intuitive prowess while maintaining respect for the process. This will be your handy, beautifully-photographed book of back-pocket recipes that bring enjoyment to any meal." — Sarah Owens

"Michael's book is both extraordinarily beautiful and inspiring, but more importantly it is also comprehensive; with superb easy to follow step-by-step instructions for utterly delicious recipes that you actually bake, making it perfect for any level of baker." — Vanessa Kimbell

"I have been a massive fan of Michael James ever since I visited him at Tivoli Road Bakery, where he was baking some of the best bread and pastries in Melbourne. We loved his first book, The Tivoli Road Baker, and its always on the shelf in our kitchen and bakery. His new book, All Day Baking, is savoury baking genius, with the chapters set out beautifully, and not surprisingly full of the most tempting and delicious recipes for the whole family. We can't wait to bake from his book." — Justin Gellatly

"Michael's book has everything I look for in a baking book - a wide breadth of classic and unique flavours, meticulous notes and instructions on techniques, recipes that can be trusted, and an author who is smart, generous and genuinely wants the reader to succeed. Avid weekend bakers and professionals alike will refer to this book again and again both for fundamentals and inspiration. I look forward to adding many of these recipes to my repertoire." — Bonnie Ohara