Onward Towards Our Noble Deaths (Paperback)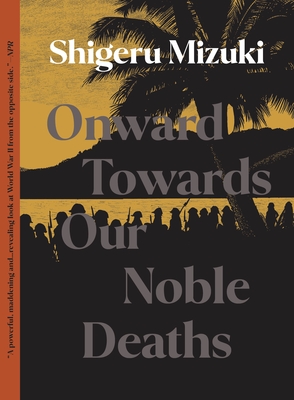 $29.95

Available in our Warehouse: Usually Ships in 3-8 Days
Description
---
The book that brought pre-eminent Manga-ka Shigeru Mizuki to the English-speaking world

Kokopo, 1943. A platoon of soldiers is ordered into battle. The objective is death. The alternative is certain execution as a consequence of survival. Inspired by Eisner Award-winning author Shigeru Mizuki's own mandatory tour of duty as an active combatant in the Imperial Japanese Army, Onward Towards Our Noble Deaths portrays a flailing infantry unit on its last legs near the end of the Second World War.

This deeply personal and landmark anti-war work could only have been made by a pacifist. The desperation and moral depravity on display is devastating. Mizuki's fanciful characters must make do against a photo-realistic backdrop teeming with tropical life that remains inhospitable. Indeed, commanding officers prove even more ferocious than the wild unknown of Papua New Guinea. And yet the human instinct endures, seeing through the absurdity of such a rigid and outdated command structure with gallows humor.
About the Author
---
Born March 8, 1922 in Sakaiminato, Tottori, Japan, Shigeru Mizuki is a specialist in stories of yokai and is considered a master of the genre. He is a member of the Japanese Society of Cultural Anthropology, and has traveled to more than sixty countries around the world to engage in fieldwork on the yokai and spirits of different cultures. He has been published in Japan, South Korea, France, Spain, Taiwan, and Italy. His award-winning works include Kitaro,Nonnonba, and Onward Towards Our Noble Deaths. Mizuki's four-part autobiography and historical portrait Showa: A History of Japan won an Eisner Award in 2015.