The World Encyclopedia of Archaeology: The World's Most Significant Sites and Cultural Treasures (Hardcover)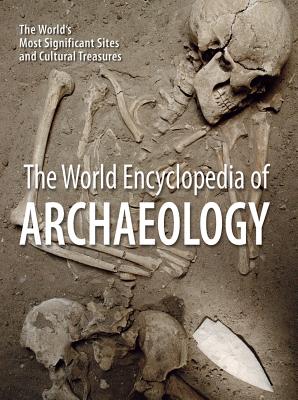 $49.50
Email or call for price.
Description
---
It can be browsed or studied, and it would engage the informal student as well as the serious reader. Strongly recommended for public libraries needing just one basic resource.
--Booklist
As an introduction to the archaeological discoveries of the last few centuries, there is little here to be faulted, particularly at this price. Recommended for high school, public, and college libraries.
--Library Journal
The World Encyclopedia of Archaeology is a sweeping exploration of archaeology that spans the globe from the beginning of recorded history and earlier. Here is a comprehensive view of the past as seen through the remnants of civilizations as they emerge and expand. The book begins by defining modern and ancient archaeology and gives the history of archaeology through the centuries. The different types of archaeology are explored, along with the techniques used for each and the problems, concerns and issues archaeologists face today.
The main section of the book details each region of the world, with the authoritative text revealing the fascinating history of important archaeological sites. This global perspective includes more than 700 illustrations. The atlas section with detailed maps provides placements throughout history.
Accurate, in-depth and up to date, The World Encyclopedia of Archaeology is compelling reading. It serves as an outstanding reference for professionals, researchers, history buffs and general readers.
The World Encyclopedia of Archaeology includes:
The first humans
Early hunter-gatherers and farmers
Megalithic builders
The Bronze Age
The Greeks and Romans
The Dark Ages
Ancient Mesopotamia
The Persian Empire
Nomadic states
The Indus civilization
China's dynasties and empires
Japan and Southeast Asian kingdoms
Early Mesoamericans
The Maya, Aztec and Inca
Ancient Egypt and the Upper Nile
Iron Age Africa
Australian Aborigines.
Highlights:
Compiled and written by an international team of archaeologists and historians
Reveals the most up-to-date findings and their significance
Organized geographically by region and key sites
Uncovers the world's most important sites and treasures
Spans all periods of human settlement
Locator guide to sites by country
List of World Heritage Sites
18 special features focus on intriguing topics
Further readings and a glossary
More than 700 color illustrations
Attractive maps that show locations of key sites.
About the Author
---
Dr. Aedeen Cremin is an archaeologist and a visiting Fellow at the Australian National University at Canberra. She is the general editor of Historic Environment, the author of The Celts in Europe and the co-author of Australia's Age of Iron.