Frozen in Time: The Fate of the Franklin Expedition (Paperback)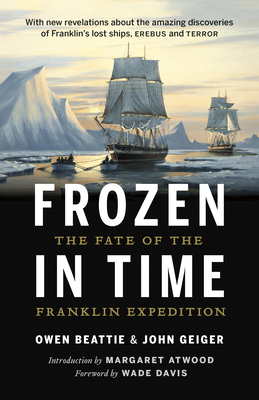 $18.95

Available in our Warehouse: Usually Ships in 3-8 Days
Description
---
"A remarkable piece of forensic deduction."--Margaret Atwood
The internationally-bestselling account of the Franklin's doomed Arctic expedition, and the thrilling scientific investigation that spurred the decades-long hunt for its recovery--now with a new afterword on the discovery of its lost ships: Erebus and Terror.
"Chilling . . . will keep you up nights turning pages."--The Chicago Tribune
In 1845, Sir John Franklin and his men set out to "penetrate the icy fastness of the north, and to circumnavigate America." And then they disappeared. The truth about what happened to Franklin's ill-fated Arctic expedition was shrouded in mystery for more than a century.
Then, in 1984, Owen Beattie and his team exhumed two crew members from a burial site in the North for forensic evidence, to shocking results. But the most startling discovery didn't come until 2014, when a team commissioned by the Canadian government uncovered Erebus, the lost ship.
Frozen in Time is a riveting deep dive into one of the most famous shipwrecks of all time, and the team of brilliant scientists that unleashed its secrets from the ice.
About the Author
---
Owen Beattie is a professor of anthropology at the University of Alberta. He has contributed to many forensic investigations in Canada, as well as to human rights and humanitarian projects in Rwanda, Somalia, and Cyprus. John Grigsby Geiger was born in Ithaca, New York, and graduated in history from the University of Alberta. His work has been translated into eight languages. He is currently the CEO of the Royal Canadian Geographical Society. Wade Davis is an anthropologist, author, and explorer. He is the author of numerous books, including Into the Silence, Sacred Headwaters and The Wayfinders. He has been described as "a rare combination of scientist, scholar, poet, and passionate defender of all of life's diversity."