The Diabetes Code: Prevent and Reverse Type 2 Diabetes Naturally (Paperback)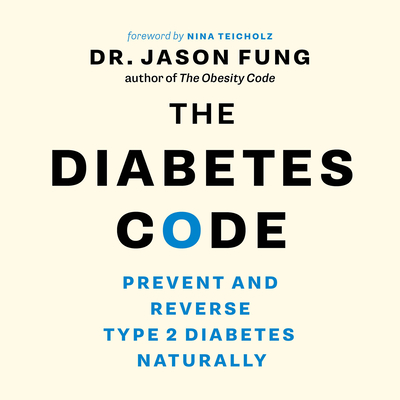 $19.95

Available in our Warehouse: Usually Ships in 3-8 Days
Description
---
"Dr. Jason Fung has done it again. In easy to follow, simple steps and rules, Dr. Fung gives you the tools to rid yourself of diabetes forever. Get this book "
--Dr. Steven R. Gundry, author of The Plant Paradox
The must-have guide to reversing and preventing type 2 diabetes through intermittent fasting and a low-carb, high-fat diet--from Dr. Jason Fung, internationally best selling author of The Obesity Code.
Today, most doctors, dietitians, and even diabetes specialists consider type 2 diabetes to be a chronic and progressive disease--a life sentence with no possibility of parole. But the truth, as Dr. Fung reveals in this paradigm-shifting book, is that type 2 diabetes is reversible. Writing with clear, persuasive language, he explains why conventional treatments that rely on insulin or other blood-glucose-lowering drugs can actually exacerbate the problem, leading to significant weight gain and even heart disease. The only way to treat type 2 diabetes effectively, he argues, is proper dieting and intermittent fasting--not medication.
About the Author
---
Dr. Jason Fung is a New York Times-bestselling author whose books include The Obesity Code, The Diabetes Code, The Obesity Code Cookbook, The PCOS Plan, Life in the Fasting Lane, and The Complete Guide to Fasting (co-authored with Jimmy Moore). Dr. Fung completed medical school at the University of Toronto and a fellowship in nephrology at the University of California. Dr. Fung is also the co-founder of The Fasting Method, a program to help people lose weight and reverse Type 2 Diabetes naturally with fasting. He lives in Toronto. Nina Teicholz is an investigative journalist and author of the New York Times-bestseller The Big Fat Surprise, which upended the conventional wisdom on saturated fat and was named Best Book of the Year by the Economist and the Wall Street Journal, among others. She has also contributed to many publications, including the New York Times, Washington Post, New Yorker, and Economist.