Angry Weather: Heat Waves, Floods, Storms, and the New Science of Climate Change (Hardcover)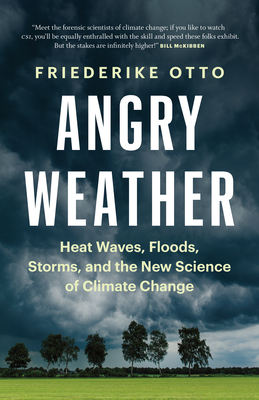 $26.95
Available in our Warehouse: Usually Ships in 3-8 Days
Description
---
"Meet the forensic scientists of climate change; if you like CSI, you'll be equally enthralled with the skill and speed these folks exhibit. But the stakes are infinitely higher "-Bill McKibben, author of Falter and The End of Nature
Massive fires, widespread floods, Category 4 hurricanes--shocking weather disasters dominate news headlines every year, but not everyone agrees on what causes them. In this gripping nonfiction book, renowned scientist Friederike Otto provides an answer with attribution science, a revolutionary method for pinpointing the role of climate change in extreme weather events.
Angry Weather tells the compelling, day-by-day story of Hurricane Harvey, which caused over a hundred deaths and $125 billion in damage in 2017. As the hurricane unfolds, Otto reveals how attribution science works in real time, and determines that Harvey's terrifying floods were three times more likely to occur due to human-induced climate change.
This new ability to determine climate change's role in extreme weather events has the potential to dramatically transform society--for individuals, who can see how climate change affects their loved ones, and corporations and governments, who may see themselves held accountable in the courts. Otto's research laid out in this groundbreaking book will have profound impacts, both today and for the future of humankind.
Published in Partnership with the David Suzuki Institute.
About the Author
---
FRIEDERIKE (FREDI) OTTO is a physicist, climate researcher, associate professor, and the acting director of the Environmental Change Institute at the University of Oxford. Otto is also a co-investigator on the international project World Weather Attribution, which assesses the human influence on extreme weather and has been profiled in the New YorkTimes, Nature, and others.