In Perpetuity: The First World War Soldiers of the Fredericton War Memorial (Paperback)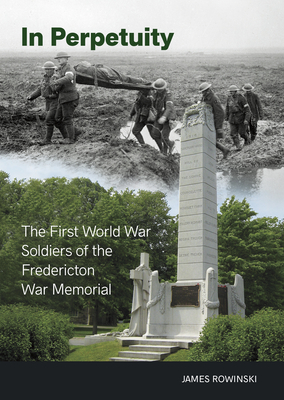 $24.95

Coming Soon - Available for Pre-Order Now
Description
---
On November 11, 1923, the fifth anniversary of the Armistice, the memorial for the Fredericton war dead was unveiled. Popular perception is that the process was a simple one: a list of all of those who died in the Great War was compiled and inscribed on the monument. In reality, the truth is much more complex.
In Perpetuity brings together the biographies of 110 soldiers from the Fredericton area who died from service during the First World War. The product of an inquiry-based learning project led by social studies teacher James Rowinski, the biographies shed light on the lives of the soldiers, the conditions they experienced during their service, and the process of commemoration following the war. The book includes the biographies of four soldiers that students argue should have been included on the official memorial, including Lieutenant Charles Blair who died by suicide in 1920 and would now likely be recognised as suffering from PTSD.
A correction and supplement to official memory, In Perpetuity preserves the memory of Fredericton's war dead -- those who both were included and excluded from the official record.
In Perpetuity is volume 30 of the New Brunswick Military Heritage Series.