Oxblood: Poems (Paperback)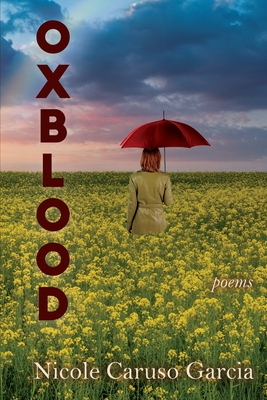 $19.95

Available in our Warehouse: Usually Ships in 3-8 Days
Description
---
Oxblood, Nicole Caruso Garcia's debut poetry collection, testifies unflinchingly about the short- and long-term effects of a college student's rape by her fianc . As the poet engages with this serious topic, her arsenal includes wit, wordplay, and even humor. The diverse structures of traditional received forms-the sonnet, the sestina, various French repeating forms, the Afghan landay, blues tercets-form interesting contrasts with free verse poems in this collection. Oxblood was a finalist for the 2022 Able Muse Book Award.
PRAISE FOR OXBLOOD:
Oxblood is a collection so fierce and yet so vulnerable that it demands to be read in one sitting, even though some of the poems leave you raw. And you return to interrogate those poems because of the book's haunting question: How do you survive an act of sexual violence that is also an intimate emotional betrayal? Garcia's themes are intense, but their impact is made stunning by her mastery of craft her subtle rhymes and the carefully chosen forms that resonate with this new poet's breathtaking voice as she does her best to shape neat squares from exit wounds.
-Anna M. Evans, author of Under Dark Waters: . . . the Titanic and Sisters & Courtesans
This is a book of Ovidian elaboration and imagination. Rape, the subject, leaves an awful legacy in the human being who has suffered it and is condemned to remember. The color of this memory, the oxblood of the title, reminds us of the carnality of victimhood and sacrifice. In poetry of the highest quality, verse that never fails to be first rate, the savagery of sexual assault is stitched indelibly.
-Mark Jarman, author of The Heronry: Poems and Dailiness: Essays
Damn, this book comes at you, from the first sound to the last syllable. Nicole Caruso Garcia's Oxblood stares into the abyss of sexual and systemic violence and does not blink nor succumb to victimhood or defeat. Rather, it rises on sinewed wings of resistance, resilience, and grace. At every moment the searing language and harrowing content threaten to snap against the hurricane high-wire tension created by Garcia's deft use of fixed forms such as blank verse, triolets, villanelles, and haiku. And yet Garcia finds her way sublimely through the storm, tearing death shrouds into poems that attempt to embrace the creatures coiled around your limbs. Oxblood, beautiful with brokenness, is a fierce and fearless debut by a breathtakingly gifted and badass poet.
-Matt W. Miller, author of Tender the River and The Wounded for the Water
ABOUT THE AUTHOR:
Nicole Caruso Garcia is an American poet and educator. She serves as associate poetry editor at Able Muse and as an executive board member at Poetry by the Sea, an annual poetry conference. Her work appears in journals such as Atticus Review, Crab Orchard Review, DIAGRAM, Measure, Mezzo Cammin, Modern Haiku, ONE ART: a journal of poetry, the Orchards, PANK, Plume, the Raintown Review, Rattle, RHINO, Sonora Review, Spillway, Tupelo Quarterly, and the anthologies Extreme Sonnets and Extreme Formal Poems. Her work has received the Willow Review Award, won a 2021 Best New Poets honor, and has been nominated for the Pushcart Prize and Best of the Net.