The Iliad (Royal Collector's Edition) (Case Laminate Hardcover with Jacket) (Hardcover)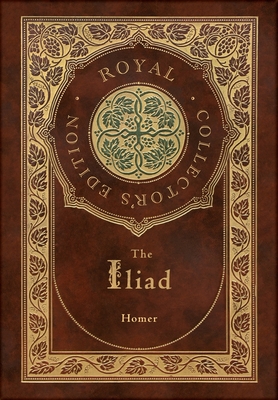 $55.93

Available in our Warehouse: Usually Ships in 3-8 Days
Description
---
The Iliad describes the events of the ten-year siege of the city of Troy, by a coalition of Greek states. The story unfolds during a quarrel between King Agamemnon and the warrior Achilles. Although the story covers only a few weeks in the final year of the war, The Iliad mentions or alludes to many of the Greek legends about the siege; the earlier events, such as the gathering of warriors for the siege, the cause of the war, and related concerns tend to appear near the beginning. Then the epic narrative takes up events prophesied for the future, such as Achilles' looming death and the sack of Troy, prefigured and alluded to more and more vividly, so that when it reaches an end, the poem has told a more or less complete tale of the Trojan War.
The Iliad is paired with something of a sequel, The Odyssey, also attributed to Homer. Both stories were intended to be sung by an epic poet. Along with The Odyssey, The Iliad is among the oldest extant works of Western literature, and its written version is usually dated to around the eighth century BC.
In this edition of Samuel Butler's translation, the names of the gods and characters have been restored from Latin to the original Greek.
This case laminate collector's edition includes a Victorian inspired dust-jacket.