Hacking Chemo: Using Ketogenic Diet, Therapeutic Fasting and a Kickass Attitude to Power through Cancer (Paperback)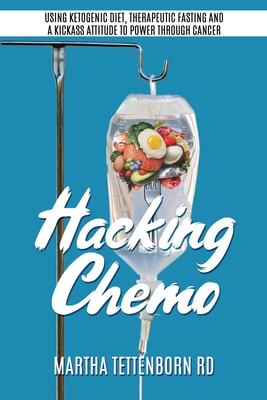 $22.74

Available in our Warehouse: Usually Ships in 3-8 Days
Description
---
Your cancer is hungry all the time. Stop feeding it and start feeding yourself.
Cancer thrives on sugar. Cancer cells need it, unable to grow and multiply without a steady supply of glucose. But after a cancer diagnosis, medical and dietary recommendations from oncology doctors often result in increased blood sugar and insulin levels-the essential elements that cancer cells need to thrive.
In Hacking Chemo, Registered Dietitian and cancer survivor Martha Tettenborn uncovers the secrets of cancer metabolism, offering a refreshing new way of treating the disease with minimal side effects and maximum effectiveness. Cancer treatment like chemotherapy doesn't have to derail your life. You can be your own bio-hacker by decoding how cancer works in your body...and your life.
In this guide, you'll discover:
A complete low-carb ketogenic meal plan to stress cancer cells and prevent new cancer growth while providing optimal nutrition to your body.
The Chemo Cycle Fasting Protocol to boost your healthy cells into stealth mode and minimize chemo side effects.
Helpful tips for easing "low-carb flu" as you shift from a Standard American Diet into ketosis.
How to heal from the anxiety and emotional pain of a cancer diagnosis using a positive attitude, knowledge and advocacy, connection to spirit and creating your Circle of Care.
Sixteen easy, delicious keto-friendly diet recipes to get you through chemotherapy-and beyond
Change how you fuel your body, add in a kickass "take control" attitude, and you'll have nontoxic but tough tools to power your way back to health. Don't feed cancer-hack it