Superman by Grant Morrison Omnibus (Hardcover)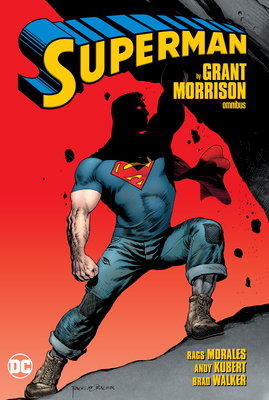 $75.00
This item is not currently available to order.
Description
---
Grant Morrison, one of the greatest storytellers of his generation, weaves the history of Clark Kent's early days in Metropolis in this Man of Steel cornerstone of the DC Universe!

Collecting the entirety of Morrison's epic saga, this New 52 era Superman omnibus celebrates and explores new facets of the Superman mythos. The compelling and deliberate Superman stories in this collection showcase his quintessential character and determination in a world that doesn't know what to make of him.

A milestone in The New 52, this omnibus is jam-packed with action, adventure, shocking secrets, parallel Earths, deadly encounters with the Anti-Superman Army, Brainiac, Metal-zero and so much more!

Collects Action Comics #0-18 and Action Comics Annual #1
About the Author
---
Writer Grant Morrison is known for his innovative work on comics from the graphic novel Arkham Asylum to acclaimed runs on Animal Man and Doom Patrol, as well as his subversive creator-owned titles such as The Invisibles, Seaguy, and WE3. Grant has also written best-selling runs on JLA, Seven Soldiers of Victory, and New X-Men, and helped to reinvent the DC Universe in The Multiversity, All Star Superman, 52, Batman, Batman & Robin and Batman, Inc.

Rags Morales started his DC career working on comics based on TSR's role-playing games such as Advanced Dungeons and Dragons. His first super-hero series for DC Comics was the Black Condor. Since then, he has worked on most of DC's major heroes including a long run on JSA and Hawkman, which served as warm-ups to the best-selling Identity Crisis written by New York Times # 1 bestselling author Brad Meltzer. Since then, he has illustrated the adventures of Wonder Woman and Batman: Confidential.