Salerno 1943: The Allies invade southern Italy (Campaign) (Paperback)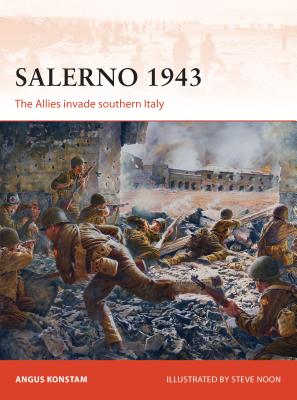 $25.00
This item is not currently available to order.
Other Books in Series
This is book number 257 in the Campaign series.
Description
---
In mid-September 1943, as the opening move of the Allied campaign to liberate the mainland of Italy, an Anglo-American invasion force landed on the beaches of the Gulf of Salerno, only a few dozen miles to the south of Naples. Italy had just surrendered, and the soldiers in the landing craft prayed that the invasion would be unopposed. It was not to be. The Germans had seized control of the Italian-built beach defences, and were ready and waiting. What followed was one of the bloodiest battles of the whole Mediterranean campaign - a ten day contest where victory hung in the balance.
Over 80,000 British and American soldiers waded ashore at Salerno, and after bitter fighting they managed to establish a narrow and vulnerable bridgehead. The British enclave near Salerno was separated from the American sector around Paestum by a river, and German-held strongpoints. All attempts to link up the two parts of the bridgehead were thwarted by the German defenders, who were being reinforced faster than the Allies. Then the Americans were nearly flung back into the sea by a ferocious German counterattack, as the German commander on the spot used his veteran armour and Panzergrenadiers to deadly effect. Although driven back towards the beach, the Americans rallied and grimly held on, and the crisis passed.
The ferocious ten-day battle at Salerno was eventually decided by a combination of Allied reinforcements, and secondary landings in support of the beleaguered Salerno bridgehead. The battle for Salerno changed the course of the campaign - by its end it was clear that wherever possible the Germans were going to fight for every inch of ground in Italy, and the campaign was not going to be the easy victory the Allied commanders had hoped.
Using documentary records, memoirs and eyewitness accounts from all sides, Angus Konstam recreates the battle day by day, hour by hour. His methodically researched account offers a fresh perspective on a decisive battle that has largely been neglected by British and American historians in recent years.
About the Author
---
Angus Konstam hails from the Orkney Islands, and is the author of over 50 books, 30 of which are published by Osprey. This acclaimed and widely published author has written several books on piracy, including The History of Pirates, and Blackbeard: America's Most Notorious Pirate. A former naval officer and museum professional, he worked as the Curator of Weapons at the Tower of London and as the Chief Curator of the Mel Fisher Maritime Museum in Key West, Florida. He now works as a full-time author and historian, and lives in Edinburgh, Scotland. The author lives in Edinburgh, Scotland.
Praise For…
---
"This is a concise account of a battle that remians controversial. The author describes, and the book illustrates, the different phases of the action. while skirting the disputes that still surround some of the Allied generals. For those unfamiliar with the campaign, or for those intrested in a bried introduction, it is recommended." —The Coast Defense Journal (August 2013)

"Author Angus Konstam does a masterful job of telling the tale of hopes, incompetence, bravery and eventual Allied success. Though greatly outnumbered, the Germans did quite well in slowing down and nearly defeating the landing. This is all enhanced by some great period photos from both sides and the art work of Mark Stille. As is typical of the series, we are provided with some great campaign maps and information on visiting this area today. Overall, it is a fascinating read of this important operation and one that I can easily recommend to you." —Scott Van Aken, www.modelingmadness.com (July 2013)

"The book contains gripping text plus excellent photos and art." - Armorama.com