The Beggar and Other Stories (Pushkin Collection) (Paperback)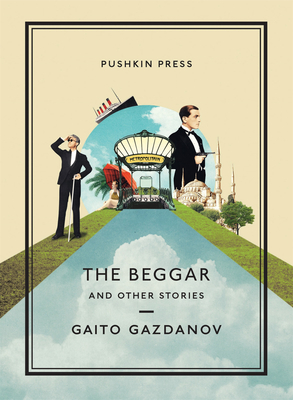 $19.80

Available in our Warehouse: Usually Ships in 3-8 Days
Description
---
Translated for the first time, the best short stories by the 'modernist master' Gazdanov, author of The Spectre of Alexander Wolf.

In a Metro underpass, bald and dressed in rags, stands a silent beggar. In the evening, he walks the deserted streets of Paris; at night, he sleeps in a small, foetid crate vacated by the death of another beggar. He is poor and he is ill, but, on reflection, he is free.

Never published before in English, this marvellously translated collection of tightly written, lyrical works represent marvellously compact miniatures of all the major strands that Gazdanov explores in his novels. The senselessness of life, the nature of fate, and the richness of the inner life - these brilliant and moving stories have it all.
About the Author
---
Gaito Gazdanov (1903-1971) joined the White Army aged just sixteen and fought in the Russian Civil War. Exiled in Paris from the 1920s onwards, he eventually became a nocturnal taxi-driver and quickly gained prominence on the literary scene as a novelist, essayist, critic and short-story writer, and was greatly admired by Maxim Gorky, among others. Pushkin Press also publishes the celebrated The Spectre of Alexander Wolf, The Buddha's Return and The Flight.
Praise For…
---
'[Gazdanov's] critique of power and wealth is more relevant than ever. We're lucky to have these stories. A fine introduction to the short prose of a modernist master.' — Kirkus Reviews (Starred Review)

"A stellar showcase of the Russian-born Parisian's striking voice . . . This collection is Gazdanov at his best, allowing readers to slowly pry open the secrets of its cast of dilettantes and lost souls." — Publishers Weekly

'A publishing event... and much, much more... How to define the genius of Gaito Gazdanov, the boy who stared certain death in the eye? He understood how human beings struggle to live in the world while shouldering the burden of their obsessive thoughts, fears, desires, and regrets.' — Los Angeles Review of Books

'Beautifully-crafted… translated and published in English for the first time, this collection of miniature tales has everything, ranging from a secret mission to an extramarital affair.' - Cub magazine

'The Gazdanov revival... is nothing short of a literary event' - TLS 'Gazdanov is a modernist master.' - Irish Times

'Gazdanov's work is the perfect fusion of the Russian tradition and French innovation.' - London Review of Books

'He has his own utterly distinctive voice... Pushkin Press is to be congratulated on reviving an author who is as relevant now as ever.' - Spectator

'This is an original at work.' - The Times

'A fascinating writer.' - Irish Times

'The six stories in this new volume exemplify Gazdanov's skill as a writer… As stories, Gazdanov's tales can be thrilling and virtuosic.' - Bookanista

'Permeated by a sense of melancholy, the stories provide a riveting glimpse into the author's turbulent life and times.' — The Lady

"Dark, beautiful magics awaits in these pages… a must buy." — Hits the Fan

"An extraordinarily rich collection… while I was reading it I couldn't help thinking what a wonderful job Pushkin are doing bringing Gazdanov to us." — Kaggsy's Bookish Ramblings

'His writing has been described as "if Nabokov wrote thrillers". I'm hooked.' - Observer

'Gazdanov owes a debt from the grave to his translator Bryan Karetnyk.' - TLS

'Each punchy story is a masterful portrait of character and thoughtful plotting of philosophical enquiry…' - Country Life