Days in the Caucasus (Hardcover)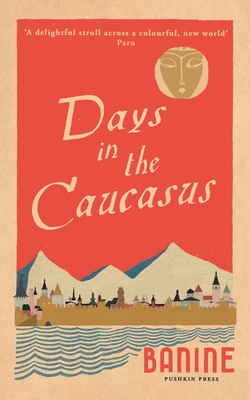 $28.00
This item is not currently available to order.
Description
---
A scintillatingly witty memoir telling the story of a young woman's determined struggle for freedom

This is the unforgettable memoir of an 'odd, rich, exotic' childhood, of growing up in Azerbaijan in the turbulent early twentieth century, caught between East and West, tradition and modernity.

Banine remembers her luxurious home, with endless feasts of sweets and fruit; her beloved, flaxen-haired German governess; her imperious, swearing, strict Muslim grandmother; her bickering, poker-playing, chain-smoking relatives. She recalls how the Bolsheviks came, and they lost everything. How, amid revolution and bloodshed, she fell passionately in love, only to be forced into marriage with a man she loathed- until the chance of escape arrived.
About the Author
---
Banine was born Umm El-Banu Assadullayeva in 1905, into a wealthy family in Baku, then part of the Russian Empire. Following the Russian Revolution and the subsequent fall of the Azerbaijan Democratic Republic, Banine was forced to flee her home-country - first to Istanbul, and then to Paris. In Paris she formed a wide circle of literary acquaintances including Nicos Kazantzakis, André Malraux, Ivan Bunin and Teffi and eventually began writing herself. Days in the Caucasus is Banine's most famous work. It was published in 1945 to critical acclaim but has never been translated into English, until now.

Anne-Thompson Ahmadova is a writer and translator from Azerbaijani, French and Russian. She lived in Baku for twenty years, moving there in 1997 initially to set up a Caucasus bureau for the BBC Monitoring Service.
Praise For…
---
"An effervescent and irreverent feat of recollection and imagination—epic in sweep yet intimate in tone—that introduces the reader to an exotic, antique world and to characters so vividly drawn that their raucous voices seem to echo long after they have vanished from sight… A radiant jewel of a book" — The Wall Street Journal

"Banine's consummate prose is marked by undertones of erudite wittiness. Educated and pragmatic, but also hopeful, she expresses wanting nothing more than to be free to pursue self-realization. Days in the Caucasus was published in 1945; this first English translation of the memoir is an absolute joy—full of adventure, travel, and youthful dreams." — Foreword Reviews

"Banine offers us an invaluable, irresistibly readable portrait of a way of life eclipsed by the cataclysms of the 20th century." — The Calvert Journal

"A delightful memoir of an eventful life set against the helter-skelter of the 20th century." — Financial Times

"Every so often a voice emerges from the archive so vivid that it seems impossible that it should ever have been forgotten." — Evening Standard

"I started to leaf through the book and was soon engrossed... So vividly and wittily does the author reveal to us an utterly unfamiliar world." — Teffi

"A romantic and gloriously comic account of a heady and turbulent youth spent on the shores of the Caspian... Banine's autobiography captures a rarefied world on the brink of extinction... What commends Days in the Caucasus, quite aside from its rakish narrative, is [her] exquisite prose and unremitting eye for comic absurdity even amid the profoundest personal tragedy." — Bryan Karetnyk, Spectator


"This jewel of a memoir, written in 1945 but only now published in English, has all the makings of a Tolstoyan drama" — New Internationalist

"Banine tells her story of first loves, forced marriage, exile and Paris with wit and warmth. Never one to take anything too seriously, her company and her memoir is a delight" — Tatler

"Filtering her childhood ambitions through the lens of maturity, Banine recreates a world that is both believable and thoroughly engrossing" — Times Literary Supplement

"A devilish story, like a finely spiced dish, bringing verve, joy and charm along with its delicious style" — Action

"An intense story, often amusing, which plunges the reader into the most unfamiliar territory imaginable" —Verités

"A book to give those gloomy souls who find daily existence banal"—Lettres françaises