Mama: A World of Mothers and Motherhood (Hardcover)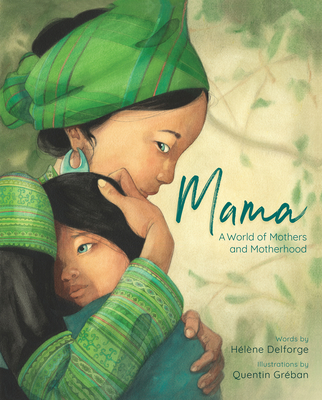 Description
---
A unique and emotive celebration of the different facets of motherhood with striking portraits by an award-winning illustrator.
Powerful, emotive, unforgettable - Mama speaks to all mothers in the international language of love.
This is a stunning collection of vivid portraits and intimate reflections on motherhood from around the globe. Mama uniquely portrays the emotions and experiences that unite mothers from different times and diverse cultures.
Twenty-one striking watercolour portraits and lively pencil sketches by acclaimed artist Quentin Greban are paired with Helene Delforge's lyrical words to create a thought-provoking celebration of motherhood in all its complexity: the satisfaction and the sadness, the frustration and the fun - and, always, the love.
This moving and joyful book is a perfect gift for mamas everywhere.
About the Author
---
Helene Delforge is a journalist, writer, mother and stepmother. She studied languages and literature and has been a journalist for over 20 years. At home in her native Brussels, Helene writes with a cat asleep in her desk drawer. Mama is Helene's first book and was co-created with her brother-in-law, illustrator and artist Quentin Greban. Quentin Greban is a world-renowned illustrator and artist. He studied illustration at the Saint Luc Institute in Brussels, Belgium, and since 1999 has published more than forty-five children's books. Quentin is the recipient of a Saint-Exupery award and his books have been translated all over the world. He works from a studio at home in his native Brussels, surrounded by drawings of his children and listening to his dog snoring. Mama was co-created with Quentin's sister-in-law, author and journalist, Helene Delforge.