Modern Small Arms: 300 of the World's Greatest Small Arms (Mini Encyclopedia) (Paperback)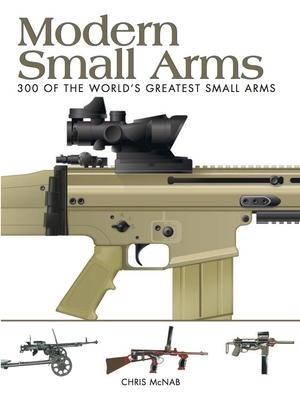 $16.45
This item is not currently available to order.
Description
---
Packed with information on everything from the AK-47 to the L115A3 Sniper Rifle, Modern Small Arms offers great insight into the development of weaponry over the past century. Modern Small Arms looks in detail at 300 of the most widely used pistols, rifles, submachine guns, and machine guns of the last 100 years. It includes the M16, the SA80, Lee Enfield, MP40, MG42, Browning Hi Power, M60, Thompson sub-machine gun, Colt .45, and Sten, all arranged by type. Each entry summarizes the weapon's development and service history, and features full-color art and a specifications table with country of origin and technical information such as caliber, length, weight, barrel length, rate of fire, muzzle velocity, operation and, where appropriate, magazine capacity.
About the Author
---
Chris McNab is the author of more than 20 survival publications, including How to Survive Anything, Anywhere, Living off the Land, and SAS Training Manual: Endurance Techniques. He holds a PhD from the University of Wales and lives in South Wales, UK.