The Prisoner: The Uncertainty Machine (Paperback)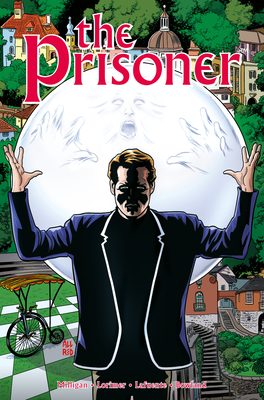 $16.99
This item is not currently available to order.
Description
---
Based on the TV show created by Patrick McGoohan, this all-new adventure written by Peter Milligan sees Breen, codenamed No. 6, trapped in a seemingly bizarre parallel world, unlike anything he has ever experienced before. There he must race to rescue his fellow spy before he loses his very grip on reality. But to save the day, Breen must also confront the arch controller of The Village, a person known only as Number One...

The Prisoner: The Uncertainty Machine sees a return to the world of The Village - the seminal 1967 TV spy show, written, created and starring the star of the show PATRICK MCGOOHAN. The show followed the exploits of McGoohan's ex spy character, who after resigning is abducted by The Village and interrogated to discover the real reason behind his resignation. Each week The Village would try to trick the information out of him. Set in Portmerion, The mock Italian costal village location became as much a star of the show as McGoohan and helped to cement the show's reputation as one of the classic cult TV shows of all times.

The Uncertainty Machine sees a modern day spy called Breen tasked with breaking into The Village in order to extricate a fellow spy who has been 'lifted' by The Village. The information she possesses is too valuable to fall into the hands of whoever it is that controls The Village. In order to rescue her, Breen must engineer his own defection and go rogue thereby becoming a person of interest to powers at work behind The Village. However nothing can prepare Breen for the bizarreness that awaits him inside the Village.
About the Author
---
One-time Entertainment weekly's "man of the year" Peter Milligan was at the forefront of the revolution in comics which were created for a more sophisticated, adult audience. Shade the Changing Man for Vertigo offered a skewered look at American culture, while Enigma, Face and Rogan Gosh pushed the boundaries of comic books. Milligan was the longest-running writer of Hellblazer, and his take on Human Target inspired the TV series. His latest works include the critical hit Britannia, and a retelling of the MUMMY for Hammer/Titan. Milligan has written several screenplays, including Pilgrim and An Angel for May.

Colin Lorimer has worked with Image, Dark Horse, IDW, Titan, and Boom! Studios. Co-creator of the books, HARVEST, UXB, Burning Fields, and Curse, he has also worked on The X-Files, Hellraiser, Blackout, Millennium, and Dark Horse Presents. Colin is an award-winning storyboard artist and has worked across film, animation, and gaming. He is currently working closely with the director Albert Hughes on his latest feature film The Solutrean.
Praise For…
---
"As wicked, wild, and weird as the original The Prisoner TV show." - The AV Club

"Peter Milligan and Colin Lorimer's The Prisoner is a worthy successor to the ground-breaking and mindbending television show. 4 out of 5!" - Comic Book

"Feels like something from David Lynch's Twin Peaks." - Multiversity Comics

"Dynamically bizzare script...fast-paced action." - Newsarama

The lead is interesting, the plot and conflict are compelling, and the art is rock solid. Check it out." - Bleeding Cool

"Brings the mystery of The Village into the twenty-first century." - Broken Frontier

"The art by Colin Lorimer is fantastic!" - SciFi Pulse

"Fans finally get an opportunity to delve deeper into the mystery of this mysterious coastal village." - IGN

"9 out of 10!" - Geeks WorldWide

"One of the most exciting and potentially daring, not to mention topical, revivals of a classic property in comic form for a long time." - Set The Tape

"Milligan and Lorimer are a dream team!" - Paste Magazine

"A stand-alone, mind blowing adventure ... a thoroughly mind-spinning tale of spies, adventure and mind warfare" - Down The Tubes

"With deep, immersive artwork that sells the sinister undertones of both the world of spies and The Village, this is a wonderful, peculiar read that both fans of the original series and new readers will enjoy." - Tulsa Book Review