TVR S-series: S1, S2, S3/S3C, S4C & V8S 1986 to 1994 (Essential Buyer's Guide) (Paperback)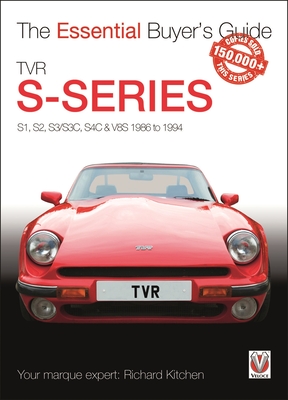 $27.50
This item is not currently available to order.
Description
---
Purchasing a TVR S-Series needn't be a daunting proposition. Led by a voice of experience – someone who works on these cars on a daily basis – this guide is the perfect accompaniment when viewing and buying one of these hand-built sports cars. A TVR S-Series could be a potential bargain and, having this guide in your pocket will greatly improve your odds of finding a good one!
Packed with good advice, including a comprehensive evaluation system, this book considers running costs, paperwork, vital statistics, valuation, the TVR community, and whether a TVR S-series will suit you and your lifestyle. This is THE COMPLETE GUIDE to choosing, assessing and buying the car of your dreams.
About the Author
---
Growing up near Southampton in the 1980s, Richard Kitchen became obsessed by all things automotive. A love of TVRs turned into a business when he took over the running of Southways Automotive Ltd in 2012, which is now a renowned classic TVR specialist. The father of three boys, and husband to a long-suffering wife, Richard has restored, or had a hand in the body-off chassis restorations of many TVRs over the past few years. He has owned one of the last TVR S1s produced since 2013, and previously owned a Chimaera 400. He has also contributed short articles to Practical Classics and Citroënian magazines.