Kamen Rider Kuuga Vol. 1 (Paperback)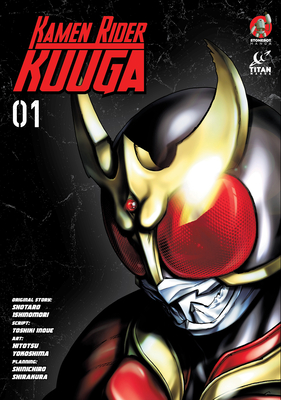 $12.99

Available in our Warehouse: Usually Ships in 3-8 Days
Description
---
For the first time in English, the classic manga adaptation by Tokusatsu legend Shotaro Ishinomori. Based on the Kamen Rider Kuuga TV series, currently airing on Shout Factory in the US.

A series of fiery murders rocks Tokyo, prompting detective Kaoru Ichijo to investigate. Meanwhile, researchers in Nagano discover an ancient casket, awakening the ancient evil that dwells within, just as young student Yusuke Godai returns to Japan, unaware that he's the final piece of the puzzle that will see the return of the enigmatic spirit Kuuga!

Available in English for the first time ever, this is a classic manga adaptation of the cult Japanese TV series currently airing on Shout Factory in the US. Based on the original concept and story by tokusatsu legend Shotaro Ishinomori, Kamen Rider Kuuga is an epic action series about a defender of justice with a twist! Perfect for fans of Power Rangers, Ultraman and sci-fi/mecha manga!
About the Author
---
Shotaro Ishinomori was a Japanese manga artist who was an influential figure in manga, anime, and tokusatsu, creating several immensely popular long-running series such as Cyborg 009, Himitsu Sentai Gorenger (which would go on to become part of the Super Sentai series), and Kamen Rider. He won the prestigious Shogakukan Manga Award twice, in 1968 for Sabu to Ichi Torimono Hikae and in 1988 for Hotel and Manga Nihon Keizai Nyumon. He passed away in 1998.

Toshiki Inoue is a Japanese screenwriter known for his work on anime and tokusatsu. He has written for many entries in the Kamen Rider series, including the Kamen Rider Kuuga manga adaptation.

Hitotsu Yokoshima is a Japanese manga artist, known mostly for his adaptation of H.G. Well's The War of the Worlds with manga writer Daisuke Ihara and the manga adaptation of Kamen Rider Kuuga with Toshiki Inoue.
Praise For…
---
"A few years ago, it was impossible to find Kamen Rider media in America. However, it is clear that the franchise is finally taking steps to rectify this (…). Hopefully, this means we'll see more American releases in the future so that American fans can more easily watch, enjoy, and support the content they love." CBR.com

"Good action, a cool mythos, handsome-as-heck performers, and a story that keeps you watching episode for episode (…). Kamen Rider Kuuga feels very akin to modern superhero or sci-fi serials." Nerdist

"Horror-infused art continues to impress." Anime News Network