History of the Caucasus: Volume 1: At the Crossroads of Empires (Hardcover)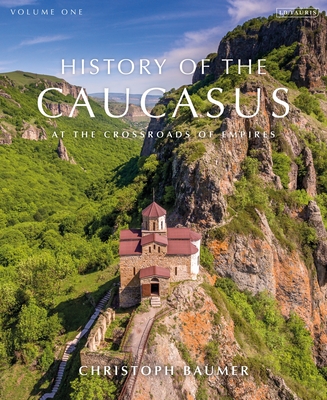 $40.00

Available in our Warehouse: Usually Ships in 3-8 Days
Description
---
Rich and illuminating. Literary Review
A landscape of high mountains and narrow valleys stretching from the Black to the Caspian Seas, the Caucasus region has been home to human populations for nearly 2 million years. In this richly illustrated 2-volume series, historian and explorer Christoph Baumer tells the story of the region's history through to the present day. It is a story of encounters between many different peoples, from Scythians, Turkic and Mongol peoples of the East to Greeks and Romans from the West, from Indo-European tribes from the West as well as the East, and to Arabs and Iranians from the South. It is a story of rival claims by Empires and nations and of how the region has become home to more than 50 languages that can be heard within its borders to this very day. This first volume charts the period from the emergence of the earliest human populations in the region - the first known human populations outside Africa - to the Seljuk conquests of 1050CE. Along the way the book charts the development of Neolithic, Iron and Bronze Age cultures, the first recognizable Caucasian state and the arrival of a succession of the great transnational Empires, from the Greeks, the Romans and the Armenian to competing Christian and Muslim conquerors.
The History of the Caucasus: Volume 1
also includes more than 200 full colour images and maps bringing the changing cultures of these lands vividly to life.
About the Author
---
Christoph Baumer - a leading explorer and historian of Central Asia, Tibet and the Caucasus - has written many well-received books in the fields of history, religion, archaeology and travel. These include, among others, The Church of the East: An Illustrated History of Assyrian Christianity (2006), Traces in the Desert: Journeys of Discovery across Central Asia (2008), China's Holy Mountain: An Illustrated Journey into the Heart of Buddhism (2011) and the seminal History of Central Asia in four volumes (2012-2018) all published by I.B.Tauris. Dr Baumer is President of the Society for the Exploration of EurAsia, Senior Research Fellow at the Kazakhstan Academy of Sciences, and a member of the Explorers' Club, New York, the Royal Asiatic Society, the Royal Geographical Society and the Royal Society for Asian Affairs, London. He is a recipient of the prestigious Sir Percy Sykes Medal, awarded to him by the Royal Society for Asian Affairs in 2015.