Werner Herzog: Ecstatic Truth and Other Useless Conquests (Hardcover)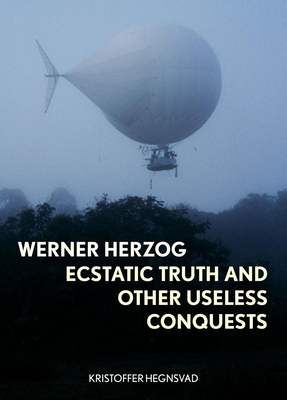 Description
---
Werner Herzog came to fame in the 1970s as the European new wave explored new cinematic ideas. With films like Signs of Life (1968); Aguirre, the Wrath of God (1972); The Enigma of Kaspar Hauser (1974); and Fitzcarraldo (1982), Herzog became the subject of public debate, particularly due to his larger than life characters, often played by the wild Klaus Kinski. After the success of his documentary Grizzly Man (2005), Herzog became a leading force in a new form of hybrid documentary, and his tough attitude toward life and film made him a director's director for a new generation of aspiring filmmakers. Kristoffer Hegnsvad's award-winning book guides the reader through films depicting gangster priests, bear whisperers, shoe eating, revolutionary filmmakers . . . and a penguin. It is full of rare insights from Herzog's otherwise secretive Rogue Film School, and features interviews with Herzog.
About the Author
---
Kristoffer Hegnsvad is a writer, documentary filmmaker, and the film and television editor and critic at Dagbladet Politiken, Denmark's biggest daily newspaper. He is the director of Looking for Exits: Conversations with a Wingsuit Artist and Laamb.

Claire Thomson is associate professor in the School of European Languages, Culture and Society at University College London, where her research centers on Danish cinema. She is the author of Short Films for a Small Nation: Danish Informational Film 1935–1965.
Praise For…
---
"A beautifully presented account of Herzog's work, Hegnsvad's book finds its purpose in both its design and in its sense of affiliation. Hegnsvad is a documentary filmmaker as well as a writer, and so that even if much of what Hegnsvad says will seem familiar to those who know well Herzog's films and the various things the great director has to say about them, Hegnsvad brings to the material an experiential wonder, a sense that Herzog so consistently goes where most documentary filmmakers fear to tread. By giving us a feeling of following in a master's footsteps, he reveals how original Herzog happens to be; how often he would venture into the previously unknown and make it familiar through strength of personality and constitution."
— Senses of Cinema

"Of all the major New Wave German film directors since the 1970s—Fassbinder, Wenders, von Trotta, Petersen, Schlöndorff—no one has been as enduring as Werner Herzog (b. 1942). This [is an] elegant, artistic, philosophical study. . . . It is beautifully illustrated with many color photos, critically astute, and clearly the work of a movie critic who knows Herzog well. The major works that brought Herzog to the attention of American audiences—Aguirre, Fitzcarraldo, Nosferatu, and Grizzly Man—receive penetrating analysis. Herzog as a teacher is as much a topic as Herzog as a director, and discussion of his Rogue Film School gives readers some insight into the legacy of this remarkable film personality. Klaus Kinski, the actor most closely associated with Herzog's most manic characters, is very much a part of the narrative. This is biography, film aesthetics, and philosophy rolled into one book. . . . Highly recommended."
— Choice

"Hegnsvad's book about the German filmmaker Werner Herzog is not a journalistic examination of cinema, but a philosophical journey into the creative workshop of a remarkable artist. Through conversational partners like Benjamin, Adorno, Nietzsche, and Deleuze, the book deals with questions like: What is cinema? What is the relationship between imagery and truth? Different concepts of the movie director—as philosopher, ethnologist, explorer, and scientist—are also discussed. It's a study about what it requires to be curious about the world, about life, and about pushing the limits when it comes to how this curiosity is pursued."
— Modern Times Review

"Hegnsvad has written an insightful and well-communicated book, which provides independent and new insights into Werner Herzog's films."
— Danish Arts Foundation, "Ten Best Books of 2018," on the Danish edition

"If you are looking for a close textual reading of all of Herzog's films than Hegnsvad's book is not for you. Nor is it a straight biography. However you will find many acute and revealing insights into his films, working methods and what Hegnsvald considers to be Herzog's philosophy. . . . I enjoyed this book for all the questions it posed. I also enjoyed it for being handsomely produced: fine matte-finished color and black and white images are expertly laid out against apt quotations. There are numerous books available on Herzog. This is one of the most erudite and engaging."
— Magonia Review of Books

"Solitary searcher and skillful self-promoter Werner Herzog is an artist whose cinematic visions, fictional or not, are invariably documentaries about himself. Curious and awed, his erudite sometime student Hegnsvad reveals a recondite Herzog personality no less fascinating than his films."
— J. Hoberman, author of "Film After Film"

"Hegnsvad's book is a breathtaking and beautifully illustrated journey through Herzog's many conquests. It is meant for anyone who wants to know what goes on at the Rogue Film School or acquire insight into the director's exploits without having to drag a ship over a mountain, walk from Vienna to Munich, or eat their own shoes. If you've ever found yourself longing to become a member of Herzog's guerrilla band of gangster priests, you will probably enjoy this book."
— Brad Prager, professor of German and film studies, University of Missouri

"In this lively and perceptive book, Hegnsvad stages a wonderful encounter between the work of cinema's most peripatetic master, and the nomadic thinking that can deepen our appreciation and solicit our participation in Werner Herzog's marvelous life journey."
— James Schamus