Jean Sibelius: Life, Music, Silence (Hardcover)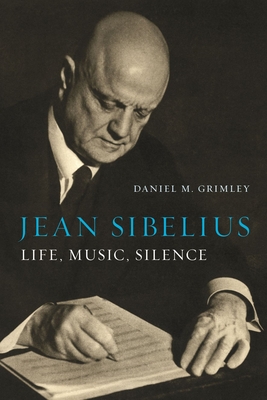 Description
---
An illuminating investigation into the interdisciplinary impact of the beloved modern classical composer.
 
Few composers have enjoyed such critical acclaim—or longevity—as Jean Sibelius, who died in 1957 aged ninety-one. Always more than simply a Finnish national figure, an "apparition from the woods" as he ironically described himself, Sibelius's life spanned turbulent and tumultuous events, and his work is central to the story of late-nineteenth- and early-twentieth-century music. This book situates Sibelius within a rich interdisciplinary environment, paying attention to his relationship with architecture, literature, politics, and the visual arts. Drawing on the latest developments in Sibelius research, it is intended as an accessible and rewarding introduction for the general reader, and it also offers a fresh and provocative interpretation for those more familiar with his music.
About the Author
---
Daniel M. Grimley is professor of music at the University of Oxford and the Douglas Algar Tutorial Fellow at Merton College. His books include Delius and the Sound of Place.
Praise For…
---
"A brief, thoughtful biography that should prove engaging to scholar and novice alike. . . . Jean Sibelius: Life, Music, Silence is a welcome addition to the literature on a creative master who continues to stand apart."
— Tim Page

"The three-word subtitle of Grimley's Jean Sibelius: Life, Music, Silence provides the key to its excellence. 'Life' shows Sibelius's emergence from a Swedish-speaking provincial-city background into becoming an international celebrant of Finnish language, myth, poetry, and landscape. 'Music' insists on the varieties within Sibelius's output—songs, piano compositions, theater music (with Everyman outstanding), as well as the tone-poems and seven symphonies, here superbly analyzed. 'Silence' means 'twenty-seven years . . . an intractable dilemma.' Grimley probes political ambivalences, the reality of an Eighth Symphony, while leaving us with huge gratitude for the incomparable richness of 'Life' and 'Music.'"
— Paul Binding

"The quest to compose drove [Sibelius's] life, yet as Grimley notes, much else about him is hard to pin down. . . . This complexity is embraced in a wide-ranging yet taut narrative, in which the musical works are balanced with the life story. And while this is far from the first Sibelius biography, the British academic adds something new by meticulously drawing on relevant cultural, artistic, historical, and political context. Broad ideas are interrogated, whether that's the complexity of national identity or the vision of the Finnish forest composer. The insightful musical analysis makes a wonderful case for the rarer songs and theater music."
— BBC Music Magazine

"It is easy for a biographer to lose focus on what Sibelius called his 'inner life,' while trying to include all his other activities within a very intricate and unfamiliar sociopolitical context. Grimley has an exemplary grasp of the latter, and (like his subject) generally knows what to leave out."
— John Greening

"Grimley writes well and sensitively: providing technical information and opinion without being over-academic. . . . Jean Sibelius: Life, Music, Silence is a subtle and informative study of Sibelius providing much fresh information and perspectives."
— Classical CD Choice

"Always more than simply a Finnish national figure, Sibelius's life spanned tumultuous events. This book situates him within a rich interdisciplinary environment, paying attention to his relationship with architecture, literature, politics, and the visual arts. Drawing on the latest developments in Sibelius research, it is intended as an accessible and rewarding introduction for the general reader, and also offers a fresh and provocative interpretation for those more familiar with his music."
— Presto Music Awards 2021, Book Winner

"With a new spring in his step across already familiar ground, Grimley reinvigorates the life-and-works format by vividly placing Sibelius within the ever-shifting artistic and geopolitical landscape of his time, and that of existing scholarship. Grimley's elegant fusion of 'audible' musicological detail and warm human insight will enrich the academic and general reader alike."
— Hilary Finch, former music critic,Times (UK)

"Grimley's Jean Sibelius: Life, Music, Silence is a concise, balanced, and reader-friendly volume that combines successful biographical study with cultural-historical cross-section and discussion about up-to-date topics in the literature, such as the debate on Sibelius's political orientation. Extending the examination beyond the standard Sibelius repertoire, the author's perspective on the composer's music is fresh and inventive."
— Timo Virtanen, lecturer at Sibelius Academy, University of the Arts Helsinki, editor-in-chief of the Jean Sibelius Works

"Sibelius is so much more than just a few labels, and Grimley delicately places Sibelius both within his time and within his own popular canon... Recommended."
— Choice