The Fires of Lust: Sex in the Middle Ages (Hardcover)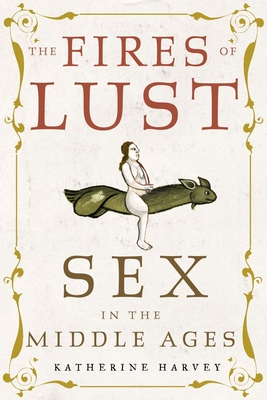 Description
---
An illuminating exploration of the surprisingly familiar sex lives of ordinary medieval people.
 
The medieval humoral system of medicine suggested that it was possible to die from having too much—or too little—sex, while the Roman Catholic Church taught that virginity was the ideal state. Holy men and women committed themselves to lifelong abstinence in the name of religion. Everyone was forced to conform to restrictive rules about who they could have sex with, in what way, how often, and even when, and could be harshly punished for getting it wrong. Other experiences are more familiar. Like us, medieval people faced challenges in finding a suitable partner or trying to get pregnant (or trying not to). They also struggled with many of the same social issues, such as whether prostitution should be legalized. Above all, they shared our fondness for dirty jokes and erotic images. By exploring their sex lives, the book brings ordinary medieval people to life, revealing details of their most personal thoughts and experiences. Ultimately, it provides us with an important and intimate connection to the past.
About the Author
---
Katherine Harvey is an honorary research fellow at Birkbeck, University of London. She holds a PhD in medieval history from King's College London and has published widely on the Middle Ages.
Praise For…
---
"When does sex become rumpy-pumpy?... By the Middle Ages sex is indisputably odd. Reading Harvey's The Fires of Lust: Sex in the Middle Ages, I found myself thinking: weird, weirder, and, occasionally, whoa! This is an eye-watering, jaw-dropping, blush-raising book. Harvey, a medieval historian and honorary research fellow at Birkbeck, has peeped through the keyhole of the past and caught the Middle Ages in flagrante. The tone is spot-on: curious but not prurient; correct yet amused."
— Times

"A lively and readable account rooted in a deep knowledge of the scholarly literature on sexuality in medieval western Europe. Harvey's specialism in the history of medicine provides particular depth, and is integrated with legal and cultural material to create a sparkling and convincing whole."
— Ruth Mazo Karras, Trinity College Dublin

"Masterful. There is no better guide to what occurs betwixt the sheets of the medieval bedroom than Harvey. The Fires of Lust—an absolute triumph."
— Kate Lister, author of "A Curious History of Sex and Harlots, Whores & Hackabouts"

"With unabashed directness, a delicate touch of wit, and constant humanity, Harvey surveys the world of medieval sex and sexuality. Throughout The Fires of Lust she situates the twin themes of morality and medicine in the social and material world that medieval people inhabited. What those people thought, felt, feared, and hoped for all play a part, alongside the pronouncements of theologians, lawmakers, and intellectuals. Here, in its messy complexity, is medieval life—life laid bare, but always with respect and care. A triumph."
— John H. Arnold, Professor of Medieval History, University of Cambridge, author of "Belief and Unbelief in the Middle Ages"

"Learned, fun, and full of surprises—a fascinating, wide-ranging guide to medieval sexual attitudes and experiences."
— Fara Dabhoiwala, author of "The Origins of Sex: A History of the First Sexual Revolution"