Positive Vibrations: Politics, Politricks and the Story of Reggae (Hardcover)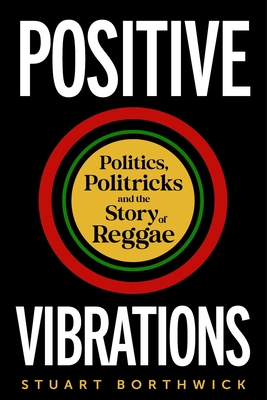 Description
---
From Marcus Garvey and Rastafarianism to today's ubiquitous dancehall riddims, a comprehensive and impassioned exploration of reggae.
 
Positive Vibrations tells of how reggae was shaped by, and in turn helped to shape, the politics of Jamaica and beyond, from the rudies of Kingston to the sexual politics and narcotic allegiances of the dancehall. Insightful and full of incident, it explores how the music of a tiny Caribbean island has worked its way into the heart of global pop. 

From Marcus Garvey's dreams of Zion, through ska and rocksteady, roots, riddims, and dub, the story closes with the Reggae Revival, a new generation of Rastas as comfortable riding rhythms in a dancehall style as they are singing sweet melodies from times gone by. Impeccably informed, vibrant, and heartfelt, Positive Vibrations is a passionate and exhaustive account of the politics in reggae, and the reggae in politics.
About the Author
---
Stuart Borthwick is a discophile, photographer, and the author of The Writing on the Wall: A Visual History of Northern Ireland's Troubles.
Praise For…
---
"In Positive Vibrations, Borthwick's excellent new history of reggae music—the putative soundtrack of Rastafarianism—and its historical and political importance since its inception in the early 1960s, the author demonstrates respect for the music and the faith that inspired it even as he examines the flaws and contradictions in both. . . . They aren't likely to read a lot on summer break, but I think the world would be a better place if every college kid grooving to Marley, Peter Tosh, Burning Spear, and others took the time to learn there's a lot of heart behind the soul of their poolside-kegger soundtrack. Positive Vibrations is a good place to start."
— Washington Independent Review of Books

"Taking as its starting point that reggae is rooted in the forced migration of Africans during slavery, Positive Vibrations offers a nonstandard exploration of reggae's evolution and its problematic relationship to politics. Surveying the available literature, Borthwick shows how Marcus Garvey's vision of Black self-determination spurred the rise of Rastafari in Jamaica, his separatism a catalyst for the radical Nyabinghi branch, and unpacks the complex connections between Jamaican performers and the nascent state in the pre- and post-independence phases, honing in on the uneasy relationships that were key to the local power struggles of the Cold War and beyond. Tracing the influence of reggae on the punk, post-punk, and 2Tone movements in Britain, Borthwick goes on to explore the positioning of women in dancehall and the subgenre's caustic homophobia, before contrasting the more recent Reggae Revival with the 'Dubplate Election' of 2020. A readily accessible, nuanced and thought-provoking read, Positive Vibrations offers much for fans of the music and reggae scholars, as well as those interested in postcolonial theory and the politics of liberation."
— David Katz, author of "People Funny Boy: The Genius of Lee 'Scratch' Perry"