Mastering VMware vSphere 6.7 -Second Edition: Effectively deploy, manage, and monitor your virtual datacenter with VMware vSphere 6.7 (Paperback)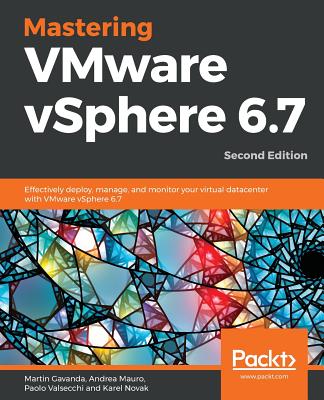 $56.69

Available in our Warehouse: Usually Ships in 3-8 Days
Description
---
Unleash the benefits of VMware vSphere 6.7 to provide a powerful, flexible and secure digital infrastructure
Key Features
Deep dive into areas like management, security, scalability, availability and more with vSphere 6.7
Design, deploy and manage VMware vSphere virtual datacenters
Implement monitoring and security of VMware workloads with ease
Book Description
vSphere 6.7 is the latest release of VMware's industry-leading, virtual cloud platform. It allows organisations to move to hybrid cloud computing by enabling them to run, manage, connect and secure applications in a common operating environment.
This up-to-date, 2nd edition provides complete coverage of vSphere 6.7. Complete with step-by-step explanations of essential concepts, practical examples and self-assessment questions, you will begin with an overview of the products, solutions and features of the vSphere 6.7 suite.
You'll learn how to design and plan a virtual infrastructure and look at the workflow and installation of components. You'll gain insight into best practice configuration, management and security.
By the end the book you'll be able to build your own VMware vSphere lab that can run even the most demanding of workloads.
What you will learn
Explore the immense functionality of vSphere 6.7
Design, manage and administer a virtualization environment
Get tips for the VCP6-DCV and VCIX6-DCV exams
Understand how to implement different migration techniques across different environments
Explore vSphere 6.7s powerful capabilities for patching, upgrading and managing the configuration of virtual environments.
Understand core vSphere components
Master resource management, disaster recovery, troubleshooting, monitoring and security