The Deepest South of All: True Stories from Natchez, Mississippi (Compact Disc)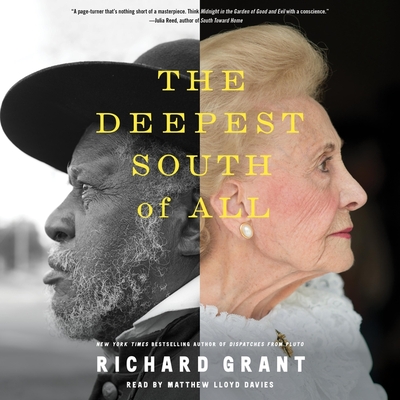 $39.99
This item is not currently available to order.
Staff Reviews
---
Fans of MIDNIGHT IN THE GARDEN OF GOOD AND EVIL will love Brit Richard Grant's gimlet-eyed look at Natchez, Mississippi. Natchez was once home to more millionaires than anywhere else in America thanks to cotton and slavery and now flourishes under the iron fist of the ladies of two warring garden clubs. Often hilarious even as it takes on the contradictions of this antebellum show place that elected a gay, black mayor. A fun read.
— Lisa
Description
---
Bestselling travel writer Richard Grant offers an entertaining and profound look at a city like no other. Natchez, Mississippi, once had more millionaires per capita than anywhere else in America, and its wealth was built on slavery and cotton. Today it has the greatest concentration of antebellum mansions in the South, and a culture full of unexpected contradictions. Prominent white families dress up in hoopskirts and Confederate uniforms for ritual celebrations of the Old South, yet Natchez is also progressive enough to elect a gay black man for mayor with 91% of the vote. Much as John Berendt did for Savannah in Midnight in the Garden of Good and Evil and the hit podcast S-Town did for Woodstock, Alabama, so Richard Grant does for Natchez in The Deepest South of All. With humor and insight, he depicts a strange, eccentric town with an unforgettable cast of characters. There's Buzz Harper, a six-foot-five gay antique dealer famous for swanning around in a mink coat with a uniformed manservant and a very short German bodybuilder. There's Ginger Hyland, "The Lioness," who owns 500 antique eyewash cups and decorates 168 Christmas trees with her jewelry collection. And there's Nellie Jackson, a Cadillac-driving brothel madam who became an FBI informant about the KKK before being burned alive by one of her customers. Interwoven through these stories is the more somber and largely forgotten account of Abd al Rahman Ibrahima, a West African prince who was enslaved in Natchez and became a cause c l bre in the 1820s, eventually gaining his freedom and returning to Africa. Part history and part travelogue, The Deepest South of All offers a gripping portrait of a complex American place, as it struggles to break free from the past and confront the legacy of slavery.