Adventure Dogs: Activities to Share with Your Dog—from Comfy Couches to Mountain Tops (Hardcover)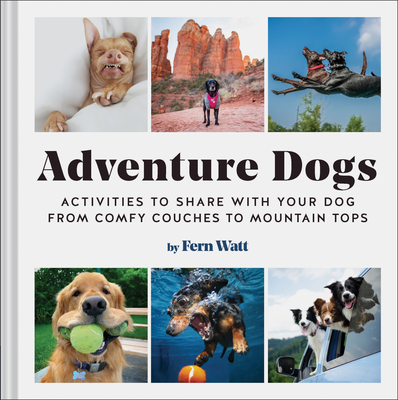 Description
---
Let your dog lead the way to adventure!

Grab your four-legged best friend and start making the most of every day, and every dog year. In Adventure Dogs: Activities to Share with Your Dog—from Comfy Couches to Mountain Tops, author Fern Watt teams up with canine experts to offer more than 50 surprising new ways to strengthen the connection you share with your dog. Captured in vibrant, full-color photography, activities range from simple to epic. What would make your dog's "bucket list" of must-see and -do adventures? Find out together as you uncover your pup's special interests and skills using this adventure book.

Follow your pup into a world of herding, sniffing, playing, howling, and walking! From hiking a mountain or taking a smell walk in your own neighborhood to training like a Navy SEAL or practicing "doga" poses, Adventure Dogs has an activity or experience for every breed, personality, energy level, age, and dog parent. Our Dogs remind us that great adventures don't always require a passport—there are tons of wonders right outside our front doors.

Perfect for dog lovers, armchair travelers, and active pet parents alike, Adventure Dogs reveals inspirational and practical ways for us humans to understand, appreciate, and live in the moment with our furry companions.

• PRACTICAL ADVENTURES: Features more than 50 real, everyday activities to engage with your dog in scientifically-backed ways. With a range of prices, activity levels, and time investments, there's something in this animal activity book for everyone and every pup.
• BACKED BY RESEARCH: Author Fern Watt traveled and did her own research with her rescue dog, Bette. She's also consulted renowned scientists and behaviorists (Alexandra Horowitz), bestselling dog-book authors (Seth Casteel), Instagram-famous dog owners (@tunameltsmyheart), and people who have expanded the limits of what we thought dogs could do, whether it's surf, skateboard, paint, do yoga, run for mayor, or graduate from an Ivy League school.
• INSPIRATIONAL LOCATIONS: Features pet-friendly destinations (hotels, beaches, dog parks, hikes, and more!) around the United States and abroad.
• OVERFLOWING WITH IDEAS: Watt consults a range of experts to add stories, tips, and photography to the book. The result is a vibrant collection of voices and perspectives.
About the Author
---
Fern Watt is the author of Gizelle's Bucket List: My Life with a Very Large Dog, which has been published in nineteen languages and optioned for film. She has written for The LA Times, Cosmopolitan, Matador Network, and Yahoo! Travel, among others. Originally from Nashville, Tennessee, she resides in Los Angeles with her best friend, a mischievous mutt named Bette. Follow their adventures at @lfernwatt.
Praise For…
---
"Is your dog giving you a look that says, 'This again?' or 'I think we need to stretch ourselves creatively, because I need to shove my nose into something new?' Then 
Adventure Dogs
is the travelogue/to-do list/must-see itinerary that will help give your pup the fullest life and you stories that stop just short of 'And then we launched into space.' Whether underwater, over mountains, or across some of the world's most beautiful terrain, from right outside your front door to just left of the unknown, this is the activity book for every dog who doesn't want to just smell the grass but taste all each day has to offer."
-Francesco Marciuliano, author I Could Chew on This and Other Poems by Dogs
"SO MUCH TO CHEW ON!"
-Tuna, Chiweenie, @Tunameltsmyheart
"Good book, good book - who's a good book?"
-Bean, Dachshund, @Beangoods
"Very compelling, riveting, couldn't put it- SQUIRREL!"
-Bob, Golden Retriever, @bob_marley_goldenretriever
"Head out the window fun! Best book of the dog-year!"
-Prudence, Saint Bernard 
"A wag-inducing book" 
-Mister Bentley, @misterbentley
"DO NOT CHEW ON THIS THE HUMANS LOVE IT!!"
-Kamara, German Shepherd
"Perfect for my early-morning, mid-morning, and late morning pre-nap read."
-Chewy, Labradoodle, @thatdoodlechewieloveskandie
"Four paws up!" 
-Emma, Frenchie, @Chloetheminifrenchie
"Fairly obvious. A bunch of stupid dogs being manipulated by some not so bright humans. A ridiculously dumb book."
-Penny, CAT
"Fern Watt has set out to investigate what canines most want to do for fun,
asking owners and experts for the best ways to live life to the fullest with your four-legged friend...Delightfully funny, silly and uplifting in equal measure."
- The Daily Mail (UK)