Keto for Women Over 50: A guide to reset metabolism, burn fat, lose weight, deflate the belly, get body confidence and boost your energy with (Hardcover)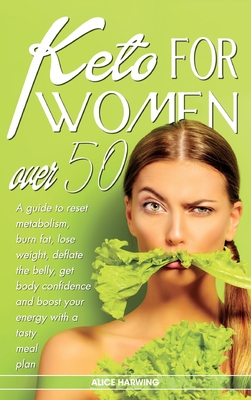 $29.95
This item is not currently available to order.
Description
---
DO YOU WANT TO LOSE WEIGHT, BUT YOU ARE TIRED OF CONVENTIONAL, TEDIOUS, AND DIFFICULT DIETS? ARE YOU LOOKING TO DISCOVER HOW TO HAVE MORE ENERGY? IF YOU TRY ALL DIET WITHOUT PERMANENT RESULT, THEN...
KEEP READING
Usually, aging creates different problems. Our muscles have less strength, we do not exercise enough, our cravings increase, and it is tough to lose weight.
But we are women, and no matter what our age is, we want to be attractive, healthy, beautiful and appreciated. So, if you are over 50 and want to stay away from body problems and improve your life, then this book will tell you how.
Keto diet is a diet combination that comes with no carbs or fiber, but high fats in food. The meal plans in ketosis are based on all fats that increase the fat burning producer in the muscles. Eventually, it helps to lose weight and get lean muscles that consequently help to mark the ultimate body transformation.
Important studies have shown that the ketogenic diet can increase lose weight, and even have benefits in the treatments of diabetes, epilepsy, and Alzheimer's. There is a variety of scientific evidence about the effectiveness of the ketogenic diet in losing weight, reducing body fat and maintaining muscle mass. This diet is not only useful for weight loss and fat burning but also for healthy skin: it helps to increase the blood flow and make the skin looks attractive, radiant, and beautiful.
This Book Covers:
What is the ketogenic diet, and how it works?
Understanding your body
Changes in your body after 50
Benefits of the keto diet for women over 50
Figure out what to eat
Get your body into ketosis and become fat-adapted
How to have more energy?
Keto diet nutrition: 30-day meal plan
How to follow the diet at home and away from home
How to keep track of your keto diet
Tips on losing weight on keto after 50
And so much more
The goal of this Book is simple: it wants to help women over 50 to get in shape through a delicious ketogenic diet. Try it, and you won't go back