Hydroponic Garden: The Beginner's Guide to Easily Build a Sustainable Hydroponic System at Home. How to Quickly Start Growing Vegetables, (Paperback)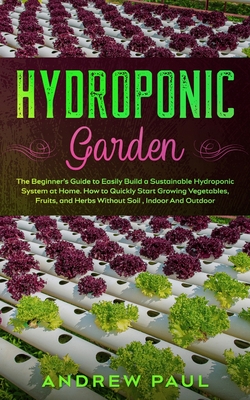 $18.99

Available in our Warehouse: Usually Ships in 3-8 Days
Description
---
Have you heard of hydroponics, but you aren't sure of exactly what it is?
Do you live in an environment that is not ideal for growing plants, but you are determined to find a way?
Are you wondering how you can grow plants indoors without having to use any soil at all?
Do you want to become the gardener you have always dreamed of becoming?
In this book, you can expect to learn everything that you need to know about hydroponic gardens This is the comprehensive guide to hydroponic gardening that you have been looking for
What hydroponics is and how it works
What you can grow using a hydroponic garden
A cost breakdown for your very first hydroponics system
The benefits and drawbacks of gardening using a hydroponic system
What types of crops you can grow using a hydroponic system?
The different types of hydroponic systems that you have to choose from
How to choose the best hydroponic system for your specific purposes
What you will need to get your hands on in order to create your own hydroponic garden
How to maintain your hydroponic garden
How to ensure you get the greatest and healthiest yield possible
The science and history of hydroponics
Common beginner mistakes to avoid
How to harvest and cultivate your hydroponic garden
How to maintain the proper lighting and pH levels in your garden to keep your plants healthy and happy
If you have ever wanted to know what hydroponic gardening is and what its common uses are, look no further If you are wondering how this type of gardening can benefit you and how you can have the most success possible while taking on this endeavour, this book will take care of that for you. If you are the type of person who wants to learn everything you can about a subject before trying it for yourself, this book will help you to be confident in yourself when you finally decide to begin creating your own hydroponic garden. With all of the knowledge, you will gain in these pages, you can begin to call yourself a green thumb, and you will be a successful and knowledgeable hydroponic gardener in no time.
This book will ignite your passion for a new way of gardening that does not require soil. This new-age form of gardening gives you flexibility, and you will learn about all of the reasons why hydroponics is going to change gardening for you forever
Look no further than this book to find everything you need to know about hydroponic gardening and how you can get started, even if you have no gardening experience at all
This book will help you to start your hydroponic garden on the right foot by learning everything you can about it. Setting yourself up for success by reading this book is the first step to having your garden blossom right before your eyes No matter what you would like to grow, this book will show you how. Don't wait, start reading this book today