Renal Diet Cookbook: A complete guide with 200 recipes for stages 3 and 4 of CKD "Chronic Kidney Disease." (Paperback)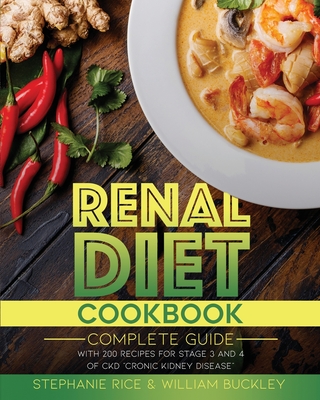 $22.99
This item is not currently available to order.
Description
---
Have you been diagnosed with chronic kidney disease Stage 3 or 4?
Do you want to avoid dialysis?
It will help if you consider looking into your diet and making some changes to lead a healthy, pain-free life.
Created by an experienced Registered Dietitian, "The Renal Diet Cookbook: Complete Guide and Recipes for Stage 3 & 4 of Chronic Kidney Disease" has all the vital tools in a kidney disease cookbook that you will need for low sodium, low potassium, and low phosphorus recipes based on your kidney disease.
Stage 3 and 4 disease patients have different restrictions than those of dialysis patients. This CKD cookbook gives full information about the predialysis stage3.
Suppose your medical dietician has told you to restrict sodium, protein, and potassium. In that case, this CKD cookbook is for you, as all recipes are according to the restrictive patient's need.
In this cookbook you will get knowledge about:
- Chronic Kidney Disease
- Different stages of CKD
- How CKD is measured
- Details of CKD stage 3 & 4
- Lifestyle Changes that can help to avoid further progression in disease
- How to prevent the disease?
Inside this book, you will find 200 renal diet recipes, including the favorite Sauces and Seasonings category that is the most valuable part for CKD patients as they can prepare their ketchup, dips, dressings, and seasonings that will be low in potassium, phosphorus, and sodium. This will help prepare food at any time.
Food categories include:
- Sauces and seasonings
- Main dishes
- Breakfast
- Vegetables
- Salads
- Soups
- Smoothies and drinks
- Desserts
It is time to add this cod cookbook to your tool kit This cookbook certainly will give you the choices that you have been searching for