The Bariatric Air Fryer Cookbook: 160 Easy Recipes for Healthier and Crispier Fried Favorites to Improve Lifelong Health (Paperback)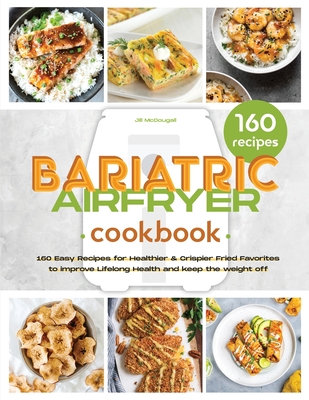 $19.99
This item is not currently available to order.
Description
---
★ 160 easy and delicious recipes to use your Air Fryer and keep the weight off after bariatric surgery. ★This book is an essential resource for anyone who just went through any kind of bariatric surgery.Whether you have recovered from your bariatric surgery and are allowed to go back to eating solid food, or you just want to eat lighter and speed up your weight loss process - yet without renouncing to your favorite fried food - in this book you will find 160 answers.
You have to be careful when choosing a book to accompany you along your diet. We have seen many detrimental advices, recipes that use meats that should be avoided for after-surgery conditions or other to-be-avoided ingredients and processes. For example, did you know that you should avoid coconut oil? It's much better to use a high quality olive oil.
It's essential to have the right informations and it's your responsibility to make the right choice.
Inside The Bariatric Air Fryer Cookbook you will find all the recipes you will ever need to help you return to your "body normal" and keep on going with your diet, with the confidence - and joy - of the healthier choices that are possible thanks to the convenience and the light cooking of an Air Fryer.
In this book you will aslo find out:
The importance of implementing a modified diet to reach your goal.
Precious advices on how you relate to food
The 4 fundamental eating habits you have to implement in your life in order to succeed in your weight control plan
The 9 never-mentioned tricks that will help you manage your hunger
How to use an Air Fryer and its great advantages
7 tips to get the best results from your Air Fryer
Breakfast, Appetizer, Main course, Fish dishes, Desserts
The recipes focus on the Phase 4 recovery period of the different types of bariatric surgery― gastric sleeve, gastric bypass, and gastric band. If you are looking for 160 tasty solutions for eating well and enjoying your food while embracing the many necessary changes of your new food-approach, this is the book for you.
The Bariatric Air Fryer Cookbook will allow you to eat your favorite fried dishes leaving guilt behind.