Renal Healthy Diet Cookbook for Beginners: 2 Books in 1: Complete Guide with 250+ Recipes All Low Sodium, Potassium, Phosphorus, and Sugar! Manage All (Hardcover)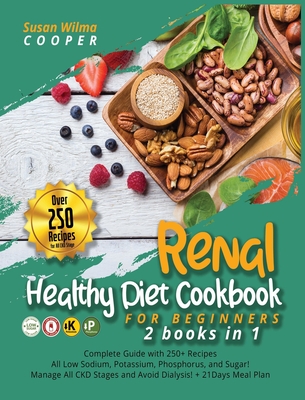 $46.73
This item is not currently available to order.
Description
---
➜➜ Do you often feel overwhelmed by your health condition? How many times you have to cook a specific dish for your disease while your family eats differently? Do you know that you and your family could eat the same meals, only be careful at the salts' doses? If you are looking for a specific diet that allows you to eat healthy without becoming crazy cooking different plates, "Renal healthy diet cookbook for beginners" is the solution you need
Often, people who have CKD develops other pathologies, like heart disease or diabetes. If you have chronic kidney disease, it is essential not to aggravate the situation and understand what you can do best; your first essential step is choosing the right diet. Having the right diet helps keep the condition stable, or in some cases, improves health.
Although it may seem restrictive, in reality, the renal diet is based on the correct amount of salts in each meal, specific food to avoid, and control the level of water people drink. The renal diet allows you to cook one dish for the whole family, just being careful to take ingredients kidney-friendly and their correct amount of salts
Do you know there is no standard kidney diet? People must avoid specific foods for each CKD stage and assume a specific level of potassium, phosphorus, and salt. People must know which are the specific salts' amount in each meal and ingredient. For this reason, this book provides a Nutritional Table for each recipe and an easy-to-follow Shopping List to simplify your ingredients' selection and allow you to choose the right meals for your CKD stage
This book is so completed because it is composed of two fantastic books: "Renal Diet Cookbook for Beginners," a comprehensive diet guide with more than 50 recipes, and "Renal Diet Recipe Book for Beginners," with more than 150 recipes
In the complete "Renal healthy diet cookbook for beginners," you will find precious information
(c) What the Renal Diet is ad why it is essential to combine it with a medical therapy
(c) A Simple-to-follow Shopping list Foods to Eat and Avoid for each CKD stage
(c) 255+ Recipes for every moment of the day
(c) Not only meat More than 80 Vegetable and Fish Recipes
(c) A specific level of the salts for each recipe
(c) Recipes for each CKD stage
(c) Tasty Juices, Smoothies, and Dessert for all family
(c) A simple-to-follow 21-Day Meal Plan to get ideas on how to start the diet
...and much more
You deserve to live quietly If you no longer want to live by counting salts and becoming crazy cooking different dishes for each family member, this book is what you are looking for.
Click the "BUY NOW" button and TAKE BACK YOUR LIFE AND KITCHEN