Soap Making: A Complete Guide To Homemade Natural Soap Making Using All-Natural Herbs, Spices, and Essential Oils - Start Your Succ (Paperback)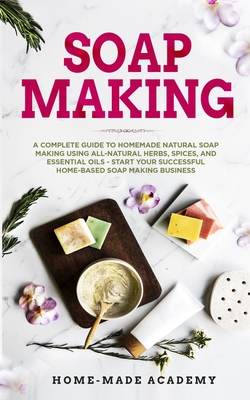 $24.95
This item is not currently available to order.
Description
---
★ 55% OFF for Bookstores ★ COLORED VERSION Do you want to learn how to create wonderful natural soaps at home? If yes, then keep reading...
Soap making is an age-old tradition, which has almost vanished due to the availability of commercial soaps. While people from yesteryears didn't have a choice but to make their own soap, more people these days are opting for handmade soaps as a natural alternative to chemical-rich, store-bought soaps.
The craft of making natural soaps in the comfort of your own home is becoming more and more popular today, and it's easy to see why, given the benefits: it's healthier since you choose the ingredients, you can save money, make beautiful gifts for family and friends, and even sell your creations
Soap Making takes you through the basics of the different soap making methods, with easy-to-understand directions so you can choose the method that suits you best and get creative with natural, healthy ingredients right away. Regardless of what type of skin you have or what your personal preferences are, you can create something according to your needs.
This book covers the following topics:
How to make soap in complete safety with or without lye
Equipment and Molds you need
All Soap Making Methods explained
All about Oils & Fats
Herbs & other Natural Additives
Scenting and Coloring your Homemade Soap in a Natural Way
Designing Your Recipes
Starting your Soap making Business
Recipes for Cold Process, Hot Process, Melt and Pour, Liquid and Hand-milled Soap
...And much more
With comprehensive, clear information and wonderful recipes covering any soap making method, this book will provide you with all you need to start making wonderful soaps at home Ready to get started? Click "Buy Now.