Air Fryer Cookbook for Beginners 2021: Simple, Easy, Low-Carb and Delish Recipes for Smart People on a Budget (Hardcover)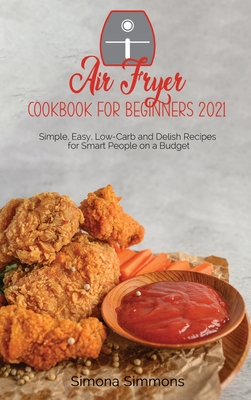 $36.97
This item is not currently available to order.
Description
---

Do you want to improve your lifestyle by preparing air fried meals?
What's great about an air fryer is that you can make your favorite foods with much less oil. With the Air Fryer, you don't need any oil at all and your food will come out and nice and crispy. It seems like magic but really this machine uses Air Crisp technology instead of oil to make food crisp. The bonus of this healthier food for you and your family, but the benefits don't stop there - you can now enjoy all your favourite deep-fried foods including French fries, chicken wings, nuggets and fish sticks without heating up your whole oven and dousing them in oil. This is so much healthier and can result in clearer skin, better digestion and weight loss. And best of all, you can still serve deep-fried foods to your guests and you don't have to have your whole house smell like a diner with this amazing Air Crisp technology.
It is my desire that by now the purpose of this recipe book has been realized that was to show you the versatility of the air fryer. When it comes to cooking and using a new kitchen appliance is learning the ins and out; the way that it cooks foods specifically. If you've read through this book and tried your hand at a variety of recipes, then you should by now know what using the air fryer entails. Consequently, it should only be too easy for you to expand your horizons and try out other dishes that aren't even in this book. Substitute meats add flavors and spices. Don't be afraid to fail. That's where true creation comes from.
And what's more, you should be able to see how healthy you can eat using the air fryer. All of these recipes are far healthier than then would be where they cooked in a deep fryer or convection oven. Simply take a step and begin air-frying.
Every modern kitchen must have an Air-Fryer like seriously, it's the latest trend now, and that's because it provides a better alternative to deep-frying, which can be dangerously unhealthy. An Air-Fryer is just the thing that you need when you want to cook yummy, crispy dishes with less or no oil, and with this cookbook of mine, you'll find every detail easy and also fun, yeah fun
Air fryers are safer than deep fryers too Hot oil is a fire hazard and can easily burn you. An air fryer uses 75% less oil and is completely sealed for the entire cooking process. It's so easy and safe, even a child could air fry French fries without any risk. Air Fryer takes safety one step further by including an automatic shut off feature. All you have to do is set the timer and then wait for your perfectly cooked food to be done.
Even though this machine is small, it heats things up really fast You can cook diced sweet potatoes in less than 20 minutes to a perfect, golden brown - half the time it takes in the oven and that's not counting the time it takes to preheat. You can cook any vegetable with ease, or if vegetables aren't your thing you can also make steaks, pork chops, meatballs or even mini pizzas in the Dash Air Fryer.
This book covers:
Understanding the Air Fryer
Advantages of using an Air Fryer
How to start cooking in an Air Fryer
30-Day Meal Plan
Breakfast
Lunch
Dinner
And much more