Woodworking and Joinery: A Complete Guide to Understanding Wood and Making Amazing DIY Projects (Paperback)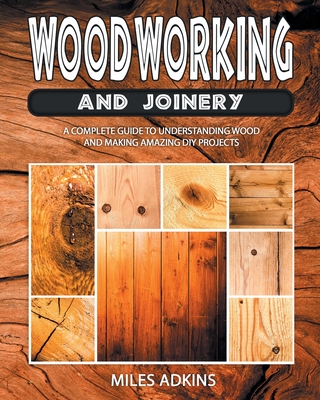 Description
---
When Tradition Meets Creativity - A guide for ancient crafts enthusiasts
Blending traditional woodworking with a down-to-earth, modern approach, this guide allows you to learn the most exemplary woodworking skills from zero, in the safety of your home.
Let's look at reality: There are some things that, when mastered, retain an unquestionable charm. Somehow, everything that dates back to the dawn of our existence preserve a timeless power in its craftsmanship domain...
...But, in today's hyper-developed society, is it possible to nurture an age-old art while gaining enjoyment and satisfaction from it? If you think not, it's evident that you've never approached woodworking...
★ In this compelling book, my goal is to provide you with the easiest, quickest, and most functional way to learn woodworking from the ground up ★
Get ready to dive into the most straightforward, hands-on guide to becoming a skilled craftsman and amaze family and friends like never before In this overwhelming guide, you will be led by the hand to everything you need to know to create wonderful objects from scratch, far earlier than you imagine. Here are a few things you'll find by reading this book:
A general overview of what you need to know before taking your first steps in woodworking
The difference between joinery and woodworking and why its unawareness is the reason for huge start-up mistakes
All the essential tools that will allow you to tackle the major woodworking techniques
Several smart and cost-effective ways to set up the perfect workstation without taking up a lot of space
A series of original, step-by-step projects for beginners along with illustrations and practical guidance for first-time success
...& much, MUCH more
⚠ You'll be surprised by how quickly and easily you can craft gorgeous handmade goods that will leave family and friends utterly enthralled. What are you waiting for? Delve today into the art of woodworking, unleash your creativity and start crafting unique pieces that will last over time...