Woodworking Tools and Accessories: A Complete Guide to Learning about Woodworking Tools, Preparing Your Woodshop, and Making Beautiful DIY Projects (Paperback)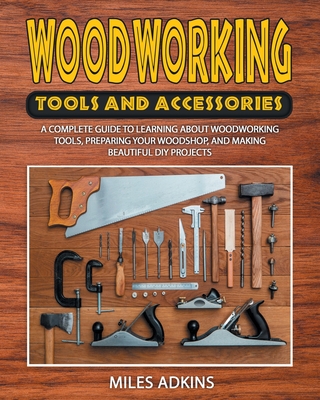 Description
---
Are you ready to build your arsenal of Tools & Accessories to make your woodworking shine?
Prepare to be informed, amazed and thrilled by this fantastic guide...
⚠ I know why you've come here Wood is a precious material that has always accompanied man in his history. For heating, designing, or building, wood has proven to be one of the most versatile materials, as well as the easiest to work with for an endless number of purposes...
✓ The truth is, knowing how to work captivates you...I can understand you well Through mastery in woodworking, you can create enchanting masterpieces that stand the test of time, not to mention the enormous satisfaction gained
But how is it possible to learn how to work it, and above all, what are the right tools and accessories for a beginner to start crafting beautiful handmade goods?
This book was created precisely to answer that question With a compelling, hands-on approach, author and woodworking fanatic Miles Adkins take you down the path of discovering the quick and easy way to learn the age-old skill. Even if you've never built even a birdhouse, this guide will be your ticket to payback. Crafting beautiful objects will finally be possible...
★ With this guide in your hands, you will:
Leap into the past, discovering the origins, the ancient techniques, and tools that are still used today (and the unexpected reason behind it...)
Learn the difference between a woodworker, a carpenter, and a carver avoiding huge mistakes due to misconceptions
Discover the equipment Miles used, including the most useful Tools and Accessories that built his acclaimed projects all over the globe
Get a precious list of original projects along with step-by-step explanations to achieve success on the first try (Guaranteed )
Gain valuable techniques and strategies to turbocharge your learning process and craft gorgeous objects that will leave friends and family impressed
...&much, much more
What are you waiting for? Enter the world of woodworking and unleash your creativity by working with the oldest material ever. You'll be amazed at how easy it is to craft with the right tools and accessories...