Emotional Intelligence Mastery: Discover How EQ Can Make You More Productive At Work And Strengthen Relationships. A Practical Guide To Improving Your (Hardcover)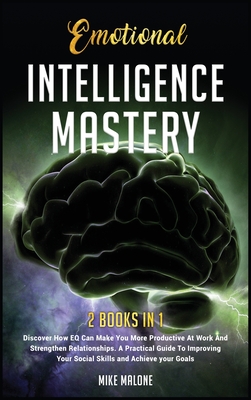 $38.95
This item is not currently available to order.
Description
---
★55% OFF for Bookstores NOW at $38.95 instead of $48.95 ★
Emotional Intelligence - The One Important Social Skill To Lead A Better Life, Build Happier and Meaningful Relationships, Enjoy Crazy Success At Work and Discover Why It Can Matter More Than IQ
Emotional intelligence has been a buzzword in the personal growth industry and in high-level corporate recruitment strategies since 1997, when Mike Malone used the term for his book title and topic. As we would say today, his use of it "went viral" immediately, in the world of business and mental health in particular.
Often abbreviated as "EQ", emotional intelligence is the personal ability you have to recognize and label your own emotions and feelings, and to use this information to steer your thinking and behavior in the desired direction. Whether you are looking to climb the career ladder with ease, thrive during social events or simply feel more at peace with yourself, a well-developed EQ is absolutely critical.
During the course of this book we will take a brief look at the current knowledge surrounding the subject, before exploring how you can vastly improve your own emotional intelligence with a series of simple, practical exercises.
Going Through These Pages you will:
What is overthinking?
Declutter your mind
What is vagus nerve and where is it?
The benefits of vagus nerve stimulation
And these are only a few of the topics...
Getting a diploma or graduating from university has its start and end date, but...
Knowing yourself and mastering your emotions takes a lifetime. The return of investment, however, to put it mildly, will be priceless.
Are You Ready To Positively Change Your Life? If so...
... Order Your Copy and Become The Best Version Of Yourself