The Sirtfood Diet: 3 Books In 1: The Celebrity's Diet. Over 350 Recipes Ready In 30 Minutes or less. 100 Sirt Smoothies Ideas (Paperback)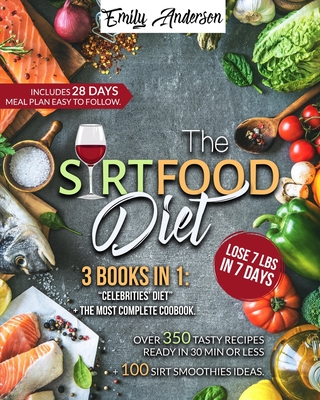 $28.95

Available in our Warehouse: Usually Ships in 3-8 Days
Description
---
Would you like to Discover the original diet used by Adele, MMA champion Conor McGregor, and Pippa Middleton ?
Are you looking for a diet that won't leave you hungry but will boost your weight loss like never before? Do you want to lose weight fast with a guided, step-by-step 4-week plan and 450 recipes that will get you amazing results?
Your customers will never stop using this amazing & step-by-step cookbook
This book will help you to lose 7 pounds in 7 days while experiencing lasting energy and eating all the foods you love.
7 lbs in 7 days might sound like overpromises, but it's 100% true and is the basis of the Sirt diet
Here's everything you need to know about the Sirtfood Diet, from the science behind it to fresh recipe ideas to try.
Adele's weight loss has been all anyone can talk about recently, especially after photos emerged of the singer reportedly seven stone lighter at the Oscars after-party.
This comes after photos emerged of the singer holidaying on a beach in Anguilla over Christmas having lost three stones.
How did she achieve it? Apparently by taking up the Sirtfood diet- famous for actively encouraging those following it to have red wine and chocolate.
In this book you will find:
Sirtfood diet principles, benefits, results
How you can lose 7 lbs in 7 days
A scientific approach behind sirtuins and how they work
How to activate the "skinny gene"
A complete list of ingredients (easy-to-find) with meal prep.
Many tips & tricks easy to follow
OVER 350 recipes
100 smoothies recipes
Green smoothies ideas easy to prepare
28 Days detailed meal plan
Day by day plan
And much much more...
Discover the benefits of this amazing diet and start living a healthier lifestyle today