Cricut Machines: Explore Air 2, Joy and Maker machine: An Easy Step-by-Step Guide (2021 Updated) to Master Your Portable Machine and De (Paperback)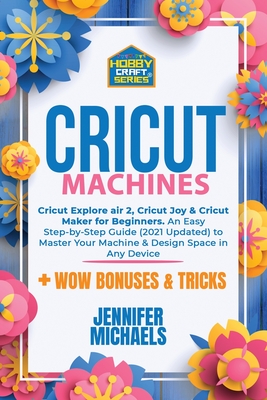 $25.00
This item is not currently available to order.
Description
---
Are you still having trouble understanding and learning the fundamentals of Cricut? If so, this guidebook will make your worries disappear
This is the guide(R) damn complete you won't find it in the box
Cricut has proven to be one of, if not the most, profitable brands of cutting plotters. However, operating the machine is understandably difficult.
However, with this Cricut guide, you will find yourself free from all the stresses and troubles of managing your Cricut machine.
This guidebook includes answers to the most common questions asked by new users of Cricut tools. It includes the basics and beginner guides for handling a Cricut machine as well as advanced tips and tricks that will surely come in handy.
Our Cricut guidebook is detailed and intricate. It even offers information regarding starting a business with your Cricut machine, navigating through the Cricut Design Space, and finding the right tools, materials, and accessories. This book are essential for helping you master the machine and assure you will create better projects in the future.
Here's a quick peek at what you will find inside this Cricut manual:
- What to know before buying
- How to navigate the Cricut Design Space
- First Cricut projects and advanced project ideas
- Tips and tricks for tools, materials, and accessories
- Making money from Cricut
Whether you want to add a personal touch to your home, earn some extra money through a Cricut-related business, or make heartwarming gifts for your friends and family, this box-set allows you to turn your dreams into a reality.
WOW, BONUSES Inside this book, you'll find instructions for accessing a collection of:
- 950+ video tutorials
- Official printer manuals
- A list of the best communities to meet other makers
- Thousands of project ideas available for free
- Millions of free SVG files and images
- My private contacts
After reading this book, you will no longer need to buy or read any other books on Cricut, because:
- This is the most complete guide around
- This guide is continuously updated
Have you already bought other books about Cricut? Don't worry, you won't be buying anymore
The information you find in this collection is rare because it is based on experience and knowledge.