Youtube World Records 2022: The Internet's Greatest Record-Breaking Feats (Hardcover)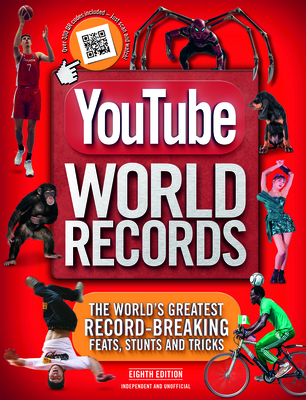 Description
---
Discover the world's greatest record-breaking feats, stunts and tricks in this interactive celebration.
YouTube is the world's most-visited video sharing site, where more than 1 billion hours of content are viewed every day. It's packed with seemingly endless amazing clips, many documenting incredible feats of human endeavor and endurance. YouTube World Records 2022 is the original and best interactive celebration of these heroic and often jaw-dropping efforts.
Super-powered with on-the-page QR code links to more than 250 amazing videos, YouTube World Records 2022 showcases the greatest feats ever recorded on the internet. From the tallest and smallest to the greatest and maddest, this sensational collection covers music, sport, technology and everything in between - including pancake tossing. fiery-hot pepper eating, mega-quick drumming and unbelievable basketball slam-dunks. Vibrantly illustrated and incredibly entertaining, this is the ultimate celebration of the world's greatest records.