Bariatric Air Fryer Cookbook 2021: 250 Easy and Delicious Recipes to Enjoy the Crispness and Keep the Weight Off + 14-Day Meal Plan (Hardcover)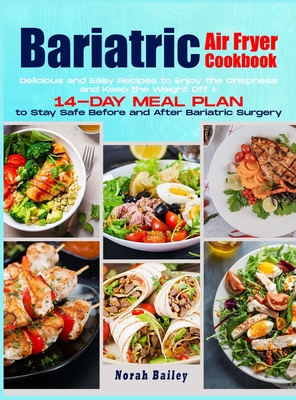 $44.95
This item is not currently available to order.
Description
---
★55% OFF for Bookstores NOW at $ 24,72 instead of $ 44,95 ★
How to Enjoy Crispy and Delicious Food and Your New Healthy Lifestyle After Bariatric Surgery...
With Up to 70% Less Calories From Fat?
Your Customers Will Never Stop to Use This Cookbook
Do you feel scared that your life will never be the same and that you won't be able to enjoy food after this surgery?
Have you ever felt so addicted to food that you don't even notice how sweets and ice cream got into your grocery bag while shopping?
Would you like to finally enjoy delicious and crispy food without worrying about breaking the rules of the Bariatric diet or gaining your weight back?
If you answered "Yes" to at least one of these questions, please read on...
Okay, the first step is done
Now everything is in your hands, and the whole lifestyle change has started.
But trust me, you don't have to be scared nor upset because now you won't be able to eat as much or that you'll have to neglect your favorite foods. No
Over the last 2 years, I have been collecting, testing, and researching some of the most delicious recipes that have helped regular people, just like you, lose tens of pounds of fat while still enjoying crispy and mouthwatering food that makes you full and satisfied every time you eat
And most importantly - you'll know that there is no guilt, and this food is a part of your weight loss journey
Take a look at what's inside:
- What is a bariatric diet and how to turn it into a lifestyle that feels natural and is enjoyable?
- Pre-OP and Post-OP diet, what is the difference and the exact steps you need to take for each one? (these parts are very important for your health)
- Complete Air-Fryer guide, how to use it for cooking delicious and healthy food?
- Your favorite breakfast, lunch, and dinner recipes for your everyday eating and weekend enjoyment
- Do you enjoy nicely cooked meat, fish, or seafood? Here are some amazing, simple-to-cook recipes...
- Mouthwatering desserts, snacks, appetizers to keep you full during the day and stop food cravings naturally
- Over 250 recipes with beautiful photos next to each one, nutritional values and detailed cooking instructions
- Sample Detailed 7 Day Pre-Operation Meal Plan (to put you in the right condition for a big move)
- Sample Detailed 7 Day Post-Operation Meal Plan to make sure that you are eating all the right foods for fast adaptation and proven start
- Much much more...
And you don't have to be an experienced cook to enjoy these amazing meals.
In fact, you don't have to know anything about cooking. This book will teach you everything you need to know almost effortlessly
Buy it NOW and let your customers become addicted to this amazing book