Hydroponics: The Step by Step Guide for Hydroponics Gardening. Build your own Affordable and Sustainable Garden at Home, and start (Paperback)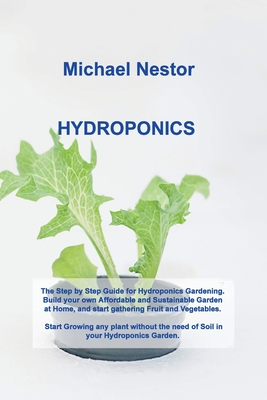 $29.95
This item is not currently available to order.
Description
---
* 55% OFF for Bookstores Now at $ 29.95 Instead of $ 39.95. LAST DAYS *
No matter how big your perfect space has to be, you can create your own Hydroponics Garden by yourself in any place: it will not be hard. Just keep reading and discover how is this possible
Your Customers Will Never Stop to Use this Awesome Cookbook
With my Hydroponics method you will be able to build an Affordable Garden wherever you want, just by following My Method and a few Easy Rules. It may be at your Home, in Backyard Homestead, or everywhere else instead. Inside a bottle, or in an incredibly larger space, it doesn't matter. This will be simple, and with this book you are going to see your Greenhouse grow incredibly faster.
Imagine the pleasure of seeing your own plants grow day by day, becoming stronger, and enjoy gathering the Vegetables and Fruit you worked for, or look at your Beautiful Flowers in your own little or big Hydroponics Garden soil-free.
This is what is included inside this book:
Discover how easy it easy to start building your Hydroponics Garden with my Step by Step Easy Guide
Learn how to improve your own garden with this simple Hydroponics Guide
Stop worrying about any kind of problems that may ruin your gathering
My specific tricks for an Incredible Growing
How to start Earning Money with your own passion
The pleasure of gathering your own Fruit and Vegetables inside your Hydroponic Garden
Are you ready to start building your own Hydroponics Garden with this Step by Step Guide? No more frustrations, enjoy the work of this incredibly Healthy Passion, that does not require soil
Buy it NOW and let your customers get addicted to this amazing book