Things Have Gotten Worse Since We Last Spoke And Other Misfortunes (Paperback)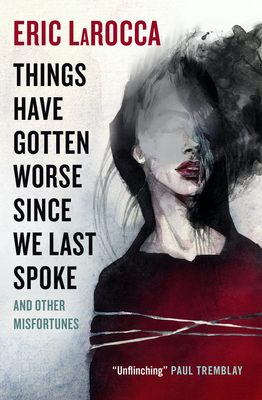 Staff Reviews
---
There's a reason the titular story in this collection went viral: it debuted Eric LaRocca as a master of the disturbing and the gruesome, of relationships twisted into mockeries of love and desire. These stories are independent but intertwined, and not to be missed.
— Frederick
Description
---
"Amongst the Top 50 Horror Books of All Time" - Cosmopolitan

Three dark and disturbing horror stories from an astonishing new voice, including the viral-sensation tale of obsession, Things Have Gotten Worse Since We Last Spoke. For fans of Kathe Koja, Clive Barker and Stephen Graham Jones. Winner of the Splatterpunk Award for Best Novella.

A whirlpool of darkness churns at the heart of a macabre ballet between two lonely young women in an internet chat room in the early 2000s—a darkness that threatens to forever transform them once they finally succumb to their most horrific desires.

A couple isolate themselves on a remote island in an attempt to recover from their teenage son's death, when a mysterious young man knocks on their door during a storm…

And a man confronts his neighbour when he discovers a strange object in his back yard, only to be drawn into an ever-more dangerous game.

From Bram Stoker Award finalist Eric LaRocca, this is devastating, beautifully written horror from one of the genre's most cutting-edge voices.

What have you done today to deserve your eyes?
About the Author
---
Eric LaRocca (he/they) is the Bram Stoker Award®-nominated and Splatterpunk Award-winning author of the viral sensation, Things Have Gotten Worse Since We Last Spoke. A lover of luxury fashion and an admirer of European musical theatre, Eric can often be found roaming the streets of his home city, Boston, MA, for inspiration. For more information, please visit ericlarocca.com.
Praise For…
---
Praise for Things Have Gotten Worse Since We Last Spoke and Other Misfortunes:

One of the "50 Best Horror Books of All Time" -Esquire.

"Indie superstar Eric LaRocca presents three novellas that capture profound pain and unthinkable horror... With shades of Nicole Cushing and Caitlín R. Kiernan, LaRocca's book is the ideal choice for readers who want depraved and disturbing horror that scares the living daylights out of them."
- Booklist

"The author's strong prose does an impressive job anchoring everything on solid ground even as the stories spiral into surrealist grotesquerie. LaRocca is a writer to watch." - Publishers Weekly 

"There's something inevitable about these stories, the way before you know it they tighten around your mind like a trap. LaRocca writes startling and gorgeous portraits of damage, and the way it spreads from body to body.  Indeed, LaRocca's stories are shocking precisely because, as strange as they are, they seem like they're occurring just down the street." - Brian Evenson

"Some horror walks you down a dark corridor, where there's whispers and laughter, sobs and screams. Other horror starts down at the end of that corridor, where there's a door that opens on to you don't know what. Read this, and then decide where Eric LaRocca has left you. Not that it matters. There's no way out."  - Stephen Graham Jones, author of The Only Good Indians and My Heart is a Chainsaw

"Eric LaRocca's unflinching Things Have Gotten Worse Since We Last Spoke will crawl inside you, move stuff around, and make you see the world differently, like all great stories do." - Paul Tremblay, author of A Head Full of Ghosts and The Pallbearers Club.

"Eric LaRocca is like a punk rocker crashing the over-produced world of arena rock in the 1970s: he's ferocious, angry, and coming on at a hundred miles an hour. He reminds us of what horror does better than any other genre: it lets loose the raw primal scream of life." - Nathan Ballingrud, author of North American Lake Monsters

"Eric LaRocca's superb collection Things Have Gotten Worse Since We Last Spoke and Other Misfortunes is cutting edge horror with pristine writing sharp enough to slice open your skin. Strongly recommend." -Ray Garton, author of Live Girls and Crucifax Autumn

Praise for Things Have Gotten Worse Since We Last Spoke:

"A startling affair... I'll be cleaning up particles of darkness in my office for weeks." - Josh Malerman, author of Bird Box and Malorie

"Bleak, clever, edgy, and vicious. Eric LaRocca draws his readers in for something they will never expect and never forget." - Sadie Hartmann, 'Mother Horror' 

"Eric LaRocca is, without doubt, one of the most exciting contemporary voices in queer horror. Pulling absolutely zero punches, his stories will leave you disturbed, and the viral sensation THGWSWLS is no exception: a visceral tale of obsession and depravity which holds a mirror up to our very darkest impulses. Paired in this edition with two fresh tales of grief and self-destruction, it might be the perfect "introduction" to LaRocca's brand of messy, dark horror... but reader beware: an encounter with these pages will leave you indelibly marked." - Ally Wilkes, author of All the White Spaces

"LaRocca's combination of structure, adept pacing and masterful language is more complex than meets the eye... A must-read for fans of body horror, epistolary novels, and depravity" - Library Journal

"A hauntingly elegant, masterfully written, and ultimately devastating indictment of cruel manipulation and even crueler submission. This is one deeply fucked-up heartbreaker. You have been warned." - John Skipp, author of The Light at the End

"Part Dennis Cooper's 'The Sluts', part David Cronenberg's 'The Brood'... Eric LaRocca's 'Things Have Gotten Worse Since We Last Spoke' is a masterpiece of epistolary body horror." - Max Booth III author of We Need to Do Something

"'Things Have Gotten Worse Since We Last Spoke' is a tight, merciless epistolary, each piece of correspondence coiling the reader around its finger and never letting go. LaRocca skillfully weaves a grotesque, unforgettable page-turner of manipulation and depravity. - Hailey Piper, author of Queen of Teeth

"With darkly poetic prose and chilling stories that peel back layers of skin to reveal a beating, bloody heart, Eric LaRocca is the clear literary heir of Clive Barker." - Tyler Jones, author of Criterium and The Dark Side of the Room

"Eric LaRocca is a fierce talent that knows no limit, masterful and utterly unmissable!" - Ross Jeffery, author of Juniper and Tome